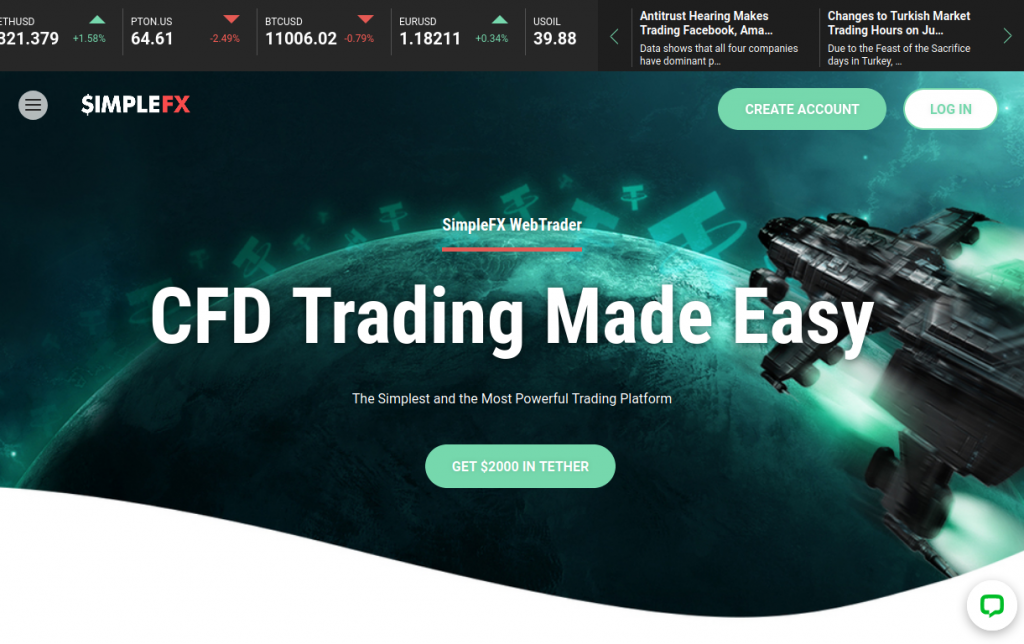 Visit SimpleFX Platform
Facts & Data about SimpleFX:
Headquarters in: Kingstown, St. Vincent and the Grenadines
Company Jurisdiction / Registration: St. Vincent
CEO / Owners: Richard Williams
SimpleFX Discounts & Coupons:
No current discounts
SimpleFX Trading Fees in detail:
No trading fees, but it does have a high spread.
Deposit & Withdrawal fees:
No deposit fees
0.0001 minimum withdrawal fee
Minimum Deposit/Withdrawal Amount:
BTC 0.001 minimum withdrawal
No minimum deposit
Supported FIAT Currencies:
AUD, BRL, CAD, CHF, DKK, EUR, GBP, INR, JPY, MYR, NOK, PLN, RUB, SEK, SGD, USD, ZAR
Supported Order Types:
Limit orders
Market Orders
OCO orders
Stop orders
Trailing stop orders
Supported Trading Pairs for Margin Trading:
BTC/USD
BCH/USD
XRP/USD
LTC/USD
ETH/USD
ETC/USD
Leverage per Coin:
Up to 1:500 depending on your account balance.
SimpleFX Futures
Supported Countries:
Worldwide, except regions that forbid cryptocurrency derivatives margin trading
SimpleFX is banned in:
SimpleFX does not offer its services to residents of the United States and countries whose regulations do not allow the free operation of the broker.
SimpleFX Discussions on Reddit and others:
SimpleFX Mobile App?
SimpleFX for iOS
SimpleFX for Android
SimpleFX How-To´s and Guides:
Frequently asked Questions about SimpleFX
What is SimpleFX?
SimpleFX is a CFD (Contracts for Difference) broker specialized in margin trading between derivatives of different currencies. This platform offers optimal and safe trading services for users with all kinds of experience by implementing an excellent API management system.

Who owns SimpleFX?
SimpleFX Ltd. is the company responsible for the SimpleFX trading platform, which offers its trading services without regulations across countries whose policies are compatible with this type of brokers.

Who is SimpleFX's CEO?
SimpleFX's founder is Richard Williams, who has also been a Coach and Mentor for his team alongside COO Mike Smith and CFO Helen Williams. Together they have led the optimal operation of the broker over the years.

Where is SimpleFX based/located?
SimpleFX headquarters is located at Suite 305, Griffith Corporate Center Beachmont, Kingstown VC0100, St. Vincent and the Grenadines, from where they manage their primary operations.

How many users does SimpleFX have?
SimpleFX has registered over 200,000 official users who are actively participating in both forex and crypto market. The broker is based on a midsize community but maintains a high volume of negotiations for the markets it offers.

How much is SimpleFX worth?
The company SimpleFX Ltd has not emphasized in details about the net worth of its trading platform, although it remains among the largest exponents for crypto and forex, so it could be highly rated among other exchange companies.

Who regulates SimpleFX?
Since SimpleFX's general operations are entirely in charge of the acceptance of San Vincent laws, no other government or institution can limit the operation of the platform, although some countries have their own policies regarding trading brokers and exchange companies.

When was SimpleFX founded?
SimpleFX was founded in 2014 with a team of more than 40 employees led by the company's management body. It has been providing its trading services for forex and cryptocurrencies ever since.

How does SimpleFX make money?
SimpleFX makes profits thanks to high spreads and overnight trading fees. Although unlike other exchange companies, SimpleFX does not charge transaction fees nor commissions for depositing and/or withdrawing funds in cryptocurrencies.

Where is SimpleFX legal?
SimpleFX services are legally available in more than 160 countries with the exception of the United States and other nations whose broker laws are not compatible with the interests of the platform.

How to use SimpleFX in the USA?
If you want to use a Bitcoin margin broker like SimpleFX or any other when you're in the USA, you need to make use of a VPN in order to circumvent any problems. When traveling to the US of course you want to be able to still manage your trades on SimpleFX but you should avoid any questions why you're logging in from US territory. When using a virtual private network you can shield your true IP address and use one of another country. The VPN service will lead all your data traffic through a foreign server of your choice (in this case you would choose one where Bitcoin margin trading and CFDs are allowed), so the trading platform will just see a login from an IP where margin trading is allowed and they won't get an alert because someone logged in from the USA. When margin trading platforms like SimpleFX see user logins from the US, they might ask for your ID to make sure you're not a US citizen. If you want to avoid this, a VPN is the way to go.

Which countries cannot use SimpleFX?
SimpleFX trading services cannot be used by residents of the United States, Cuba, Algeria, Ecuador, Ethiopia, European Union, North Korea, Iran, Japan, Canada, Myanmar, Pakistan, Republic of Serbia, Sri Lanka, Syria, Trinidad and Tobago, Tunisia and Yemen.

SimpleFX vs BitMEX – What are the mayor differences?
The main difference is that SimpleFX offers trading for different markets (such as Forex and commodities), while BitMEX only operates with crypto derivatives. In addition to transaction fees and terms of service, BitMEX only supports deposits in Bitcoin and SimpleFX allows deposits in various digital assets and fiat currency.

SimpleFX vs Binance – What are the mayor differences?
Binance is a trading platform solely in the cryptocurrency market, unlike SimpleFX.

SimpleFX vs eToro – What are the mayor differences?
The main difference between eToro and SimpleFX is the huge KYC process and job details specs that eToro puts you through, while SimpleFX only needs you to confirm your email. However, eToro allows fiat currency deposits from various US banks (United States residents may use eToro), while SimpleFX accepts these deposits through FasaPay.

What can you trade on SimpleFX?
SimpleFX offers trading for cryptocurrencies, Forex, Commodities, Indices Cash and Precious metals. For this reason, it is recognized as a complete exchange platform for users who invest in different markets.

How many cryptocurrencies are listed on SimpleFX?
Users can trade with Bitcoin, Bitcoin Cash, Ethereum, Ripple, Ethereum Classic, and Litecoin. These cryptocurrencies will be placed against the USD during each operation.

What fiat currencies are supported on SimpleFX?
SimpleFX supports USD deposits from FasaPay, Neteller and Skrill accounts (It clearly does not accept direct bank transfers, as its services are not available in the United States).

How to trade on SimpleFX?
You can choose the pair of your preference in the upper bar of the platform and place orders. Trading on SimpleFX will depend on the market in which you are willing to trade. For example: To benefit from price variations in the Crypto market, you must analyze past price patterns in conjunction with news that positively or negatively affects a certain cryptocurrency, while in commodities, precious metals or forex markets, fluctuations will mostly depend on interntational economy related events.

How much is SimpleFX Bitcoin minimum trade?
For margin trading the user can start with 0.01 BTC (which currently equals almost $100) as the minimum amount per order. You will be able to choose leverage to increase the size of your investment and obtain greater benefits.

Does SimpleFX have KYC?
Since deposits are mostly made through cryptocurrencies (whose transactions are anonymous) the SimpleFX platform does not request KYC processes. Confirming your email will be enough to become an official member.

How to transfer Bitcoin to SimpleFX?
Get the BTC address that SimpleFX has in its "Accounts and Deposits" section, which you will paste into the wallet from where you are making the transaction. After confirming the amount, accept the deposit and wait for your tokens to arrive.

How long does it take to send Bitcoin to SimpleFX?
Bitcoin transactions typically take around 1 hour to be confirmed. However, depending on the network flow and the fee involved in a transaction, it can take even a couple of hours to achieve 4 confirmations.

How to transfer cryptocurrency from Coinbase to SimpleFX?
Log in to your Coinbase account and choose a wallet in the "Portfolio" section, where different cryptocurrencies are available. Choose a currency accepted by SimpleFX (For example, Bitcoin) and press the "Send" button. Specify the details of the transaction and confirm it.

How to withdrawy from SimpleFX?
For withdrawals you must also access the "Accounts and Deposits" section, choose the account from which you want to withdraw funds and confirm the transaction. Assuming I want to send ETH to another wallet, I must specify the ETH address of that wallet, select the amount and accept.

Is there a SimpleFX withdraw fee?
Withdrawals do not require commissions except for the mining reward (in the case of Bitcoin). Likewise, incoming deposits will not charge commissions either.

What is the withdraw limit on SimpleFx?
Withdrawals in cryptocurrencies from the SimpleFX wallet do not set daily limits. The earnings you have obtained or deposits you have made can be withdrawn once a day (every 24 hours).

What chart data does SimpleFX use?
SimpleFX charts offer different types of candlestick designs, as well as different time frames, options for Fibonacci, and price range calculators. These charts will handle data related to market volume (buy and sell) and will mark trends with the correct use of indicators.

How to buy and sell on SimpleFX?
In SimpleFX you will have two ways to place a buy / sell order. One of them (market order) will introduce your order to the market at that exact moment, thus making your operation and the other (Limit order) will wait for the price to touch a point determined by you to activate the order.

Can you buy real cryptocurrency on SimpleFX?
Unlike exchange companies like Binance, you cannot buy cryptocurrencies and store them in their respective wallets. At SimpleFX you trade with your deposited funds and leverage to increase your profits thanks to the variations in the price of the asset in which you're placing orders.

How to set a stop loss on SimpleFX?
Stop loss will be set depending on how much of your funds you are willing to risk. When placing an order, you will see a "Stop Loss" and a "Take Profit" tab beneath. Choose a price level where you want your loss to stop in case the market goes against your position.

How does SimpleFX OCO work?
OCO (One cancels the other) is a type of order that allows the trader to place two orders at two different price levels, where if one is activated, the other one is cancelled. OCO orders are very popular for preventing negative trades and protecting yourself from market volatility.

Does SimpleFX have trailing stop orders?
SimpleFX users will be able to have trailing stop orders, limit and market orders on the MT4 integration. Depending on which of these orders they want to be placed, the platform will allow you to buy (long) or sell (short) any of the available assets.

Do trades close when margin funds end on SimpleFX?
Although you can trade with more trading power than your actual funds, running out of margin during a trade will automatically cancel your position and the platform will take that ammount from your balance.

How to long/short on SimpleFX?
SimpleFX users can go long/short on basically any listed asset, they only have to build a solid market analysis in order to determine which way the price is about to go. You can go long (buy) when price is about to go up or you can short (sell) when price is about to fall.

How much leverage can you use in SimpleFX?
SimpleFX allows up to 500x leverage depending on the available funds in your account. Considering other brokers only offer 100x leverage, SimpleFX raised the stakes on this one. For cryptocurrencies, however, leverage only goes up to 6x. The 500x can be used for multiple traditional assets.

Can you change leverage when in a position?
The size of the orders must be previously specified before being placed. The platform even indicates the margin required for the lots that can be chosen when going long or short. Once the trade starts, you can cancel it or wait for it to reach the target price.

How to use SimpleFX API and why?
In the main menu of the platform you will see an option called "API" where you will have to click. Once there, fill in the details of the new API you want to create. You will have to specify name, Trade permissions and IP address whitelist. Click on "Create" and you can proceed to confirm the procedure with your API manager. Traders use API keys to automate certain actions within the platform, such as placing orders.

What to use other than SimpleFX in the US?
Since SimpleFX chose not to offer its services on the United States, US citizens have to choose another broker if they want to start trading. Depending on the market you wanna trade with, Coinbase, IC Markets ans eToro can be good options.

How to use VPN for SimpleFX?
If you live in the US or in any other blocked country from SimpleFX., you'll have to sign up for a VPN service of your choice. After you successfully suscribed and logged in, create a new SimpleFX account with the specified IP address (has to be from a SimpleFX accepted country) and start trading on the platform.

What are SimpleFX Bitcoin spreads?
The Bitcoin spread is a kind of margin existing between the buy and sell price within the market, which is used as an instrument to measure liquidity. Narrow spreads represent high liquidity.

How to install SimpleFX app?
Login to your Google Store or AppStore account and in the "Search" option type SimpleFX. Once you get the application, click download. The app will be installed automatically once it is downloaded.

How to use SimpleFX app?
Find the official SimpleFX app for Android or iOS (depending on your device) and download it. Once installed, you can log in and explore the different trading options that the platform has for its users.

How does SimpleFX referral work?
The SimpleFX referral system offers up to 25% of the revenue obtained from referred users, plus an additional 5% by third-party referrals. The platform has levels of Bronze (5%), Silver (7%), Gold (10%), Platinum (15%) and Diamond (25%) to classify the referral system.

Where to find SimpleFX referral code?
In the left menu of the platform (where you will see Account and Deposits, API and profile options) you will get "Refer friends", where you must click. SimpleFX will show you your referral code that you can share with colleagues, family and friends and start receiving passive income.

How legit is SimpleFX?
SimpleFX has been a legit broker ever since its creation and has paid off millions of dollars in cryptocurrency to their users.

Which trading bots can you use on SimpleFX?
Currently there are not many integrable trading bots with SimpleFX, however, BTCRobot.com offers its automated trading services for the SimpleFX web platform in 3 different plans (Silver, Gold and Platinum plan).

How to delete SimpleFX account?
To delete your account, contact the customer support team explaining why you want to permanently deactivate your account. Once your request is confirmed, they will proceed to delete the account for you.