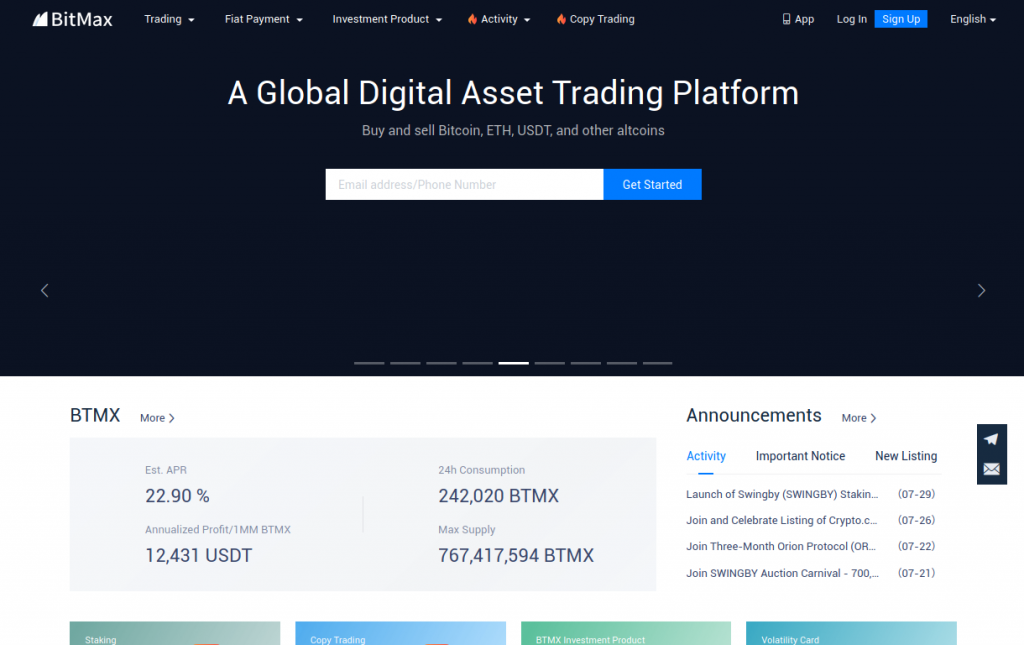 Visit BitMax Platform
Facts & Data about BitMAX:
Headquarters in: New York, Beijing and Chengdu
Company Jurisdiction / Registration: Singapore
CEO / Owners: George Cao
BitMAX Discounts & Coupons:
No available coupons at the time
BitMAX Trading Fees in detail:
Maker Fee: 0.085% – 0.075%
Taker Fee: 0.00% – 0.085%
With Perpetual Contracts: Daily fluctuating funding interest rates for leveraged positions
Deposit & Withdrawal fees:
3.50% of the deposited amount
0.0005 BTC on each Bitcoin withdrawal
Minimum Deposit / Withdrawal Amount:
No minimum deposits
0.01 BTC minimal withdrawal
Supported FIAT Currencies:
Supported Order Types:
Market orders
Stop market orders
Limit orders
Stop limit orders
Supported Trading Pairs for Margin Trading:
BTMX/USDT, BTC/USDT, ETH/USDT, EOS/USDT, XRP/USDT, BCH/USDT, LTC/USDT, BNB/USDT, BCHSV/USDT, TRX/USDT, EOS/ETH, XRP/ETH, LTC/ETH, BNB/ETH, TRX/ETH, ADA/ETH, ATOM/ETH, HT/ETH, NEO/ETH, LINK/ETH, BTMX/BTC, ETH/BTC, XRP/BTC, ETH/BTC, LTC/BTC, BCH/BTC, BNB/BTC, BCHSV/BTC, ADA/BTC, TRX/BTC, ONE/BTC
Leverage per Coin:
BTC, TRX, XRP, ETH, EOS, LTC and BNB: 10x leverage
BCH, BTT and ONE: 5x leverage
Supported Countries:
Worldwide, except regions that forbid cryptocurrency derivatives margin trading
BitMAX is banned in:
United States, Nepal, Zimbabwe, Belarus, Burma, Cote D'lvoitre (Ivory Coast), Cuba, Democratic Republic of the Congo, Iran, Iraq, Liberia, North Korea, Sudan, Syria, Algeria, Bangladesh, Bolivia, Cambodia, and Ecuador.
BitMAX Discussions on Reddit and others:
BitMAX Mobile App?
BitMax app on Play Store
BitMax app for iOS
BitMAX How-To´s and Guides:
______________________________________
Frequently asked Questions about BitMAX
What is BitMAX?
BitMAX is a next generation cryptocurrency exchange and trading platform to trade different cryptocurrencies and crypto derivatives while you have leverage and multiple types of orders. Like Binance, BitMAX is one of the few exchange platforms that have released their own token, in this case it is BTMX.

Who is BitMAX's CEO/owner?
George Cao is the founder and CEO of the BitMAX platform, who along with other Wall Street expert partners like Ariel Ling started the exchange and decide its future.

When was BitMAX founded?
BitMAX started operations on 07/18/02 under the ideas of founders with experience in Wall Street and the financial markets. The platform currently maintains its operations normally and presents good trading volumes.

Where is BitMAX based/located?
BitMAX's main offices are located in New York, Beijing and Chengdu, while the incorporation jurisdiction is in Singapore (where it was registered).

How many users does BitMAX have?
At the beginning of this year, approximately 500,000 registered users were registered with active accounts on the BitMAX trading platform. This community presents a daily trading volume greater than 70 million USD

Who regulates BitMAX?
BitMAX is not regulated or offers its trading services in countries that affect the operation of the platform with regulatory measures. Therefore, some countries cannot access BitMAX as users or use its functions.

How does BitMAX make money?
BitMAX makes money from transaction fees, interest rates, withdrawal fees and by liquidating margin trading positions. With these earnings, the BitMAX team remains operational and the platform in service.

Where is BitMAX legal?
The BitMAX trading platform is legal around the world, although it has restricted its access in different countries due to regulatory disagreements between the company and financial jurisdictions in those territories.

Which countries cannot use BitMAX?
Users resident in the following countries will not be able to trade with the BitMAX service: United States, Nepal, Zimbabwe, Belarus, Burma, Cote D'lvoitre (Ivory Coast), Cuba, Democratic Republic of the Congo, Iran, Iraq, Liberia, North Korea, Sudan, Syria, Algeria, Bangladesh, Bolivia, Cambodia, and Ecuador.

How to use BitMAX in the USA?
If you stay in the USA for a while and still want to be able to trade on BitMAX, it's best to shield your US IP address with a VPN. The Platform isn't allowed to let US citizens use their services which is why they might filter user access from the USA by monitoring from which IPs people log in. With a virtual private network you can cover your true IP (from the US) and do as if you're located somewhere else. This is what a VPN does – it encrypts and then leads all your data traffic through a foreign server, through which you get access to BitMAX. BitMAX will think you're logging in from that other country.

BitMAX vs BitMEX – what are the major differences?
-BitMEX is recognized for its high 100x leverage system that it offers for trading contracts, while BitMAX maintains a leverage limit of 10x.

BitMAX vs Binance – what are the major differences?
-Binance supports almost all cryptocurrencies available in the market so far, while BitMAX has a limited coin list.

What can you trade on BitMAX?
BitMAX users can exchange cryptocurrencies and future contracts (for which they have a Standard and Professional mode), thus allowing active participation in different trading modalities.

How many coins are listed on BitMAX?
BitMAX has 30 coins listed on its platform, including its own BTMX token. These tokens can be traded as pairs against Bitcoin, Ethereum and USD in the margin mode.

What cryptocurrencies does BitMAX have in detail?
ELF, HT, BTC, OKB, USDC, KCS, ALGO, DASH, XRP, ETH, BCH, ADA, LTC, ZRX, USDT, BAT, XLM, BCHSV, BTT, BTMX, ETC, TRX, ZEC, IOST, EOS, NEO, ZIL, ONT, BNB and PAX.

How to mine BitMAX token
BXMT does not work with PoW (Proof of Work), which means it cannot be mined. There is currently a supply of 780,615,274 BXMT tokens with more than 660 million in circulation through various exchange platforms.

What fiat currencies are supported on BitMAX?
BitMAX supports payments in fiat currency through debit and credit card, since the platform is licensed by the EU. Users will be able to buy cryptocurrencies using USD and EUR.

How much is BitMAX minimum BTC trade?
The minimum purchase in BitMAX is $ 50, an amount with which you can start your trading operations and opt for a fairly decent margin level while your orders reach their price target.

Does BitMAX have KYC?/Withdrawal limit
BitMAX offers its users the possibility to complete a KYC process in order to become certified members of the platform. However, it is not necessary to complete this procedure to position your trading orders or withdraw your earnings.

How long does it take to get verified on BitMAX?
The KYC registration usually lasts 24 hours and you can complete it in the "Account verification" option in the menu of your account. You must enter your identity document and other personal information to be verified correctly.

Does BitMAX require kyc to withdraw?
No, BitMAX users can withdraw their funds without having to go through the KYC process. However, verified users can withdraw up to 100 BTC, while unverified users have a 2 BTC for 24 hours withdrawal limit.

How to transfer bitcoin to BitMAX?
BitMAX has a Bitcoin wallet where you can deposit how many tokens you like. You will have to copy the BTC address in the BitMAX wallet and paste it in the address tab of the wallet from which you are sending the money from. Specify the amount and confirm the transaction.

How long does it take to send bitcoin to BitMAX?
Bitcoin funds usually take up to 1 hour/1 hour and a half to arrive from one wallet to another. Depending on the network traffic and fees, BTC transactions can run faster (and be confirmed in 40 minutes) or slower (more than 2 hours to be confirmed).

How to transfer cryptocurrency from Coinbase to BitMAX?
First, log in to Coinbase. You will get a section called "Portfolio", which contains the wallet of multiple cryptocurrencies allowed by the exchange. Choose a cryptocurrency (In this case, Bitcoin). Press the "Send" button and specify the amount and the BTC address to which you will send the tokens. You will receive a code through 2FA, which you must enter to confirm the transaction.

How to withdraw from BitMAX?
Go to the "My Assets" section and choose the "Withdrawal" option. Follow the steps to complete the process, although basically you will have to specify the amount and the BTC wallet to which you will send the tokens.

Can I cash my BTC to cash with BitMAX?
No. Withdrawals are completed in Bitcoin, for which you will need a BTC wallet on a platform external to BitMAX. If you want to change your BTC to cash or fiat currency transfers, we recommend sending your tokens to a wallet with P2P service to exchange crypto as in the case of LocalBitcoins.

Is there a BitMAX withdrawal fee?
Withdrawal rates in BitMAX will depend on the cryptocurrency you want to do it in. In the case of Bitcoin, withdrawals will cost 0.0005 BTC, while for ETH the rate is 0.005 ETH, 0.1 EOS, 0.0001 BCH, etc. It is recommended to make withdrawals in the currency with cheaper transactions.

What chart data does BitMAX use?
BitMAX has charts with Japanese candles and multiple indicators as acummulation/distribution options and volume levels. If you want a basic experience, choose the "Standard" mode, although if you are an experienced trader, the "Professional" mode will be more convenient for you.

How to buy and sell on BitMAX?
To buy and sell cryptocurrencies, choose the option "Cash trading" at the level with which you feel comfortable. Choose the pair you want to trade (a base currency and the one you want to buy) and the chart will be displayed. You can buy in market, Limit, Stop Limit and Stop Market modes.

Can you buy real cryptocurrency on BitMAX?
Despite the fact that BitMAX has a section for Bitcoin derivatives, it also allows you to buy and sell other cryptocurrencies on its platform, just like Binance. These tokens may be saved in the BitMAX wallet and withdrawn to other platforms, which is convenient if we analyze withdrawal fees.

How to set a stop loss on BitMAX?
BitMAX does not have a Take Profit or Stop Loss as such, but works with Limit and Stop Limit orders to determine trarget prices and to stop loss levels. To set a stop loss choose a Stop limit order and specify a stop price that will trigger a sell or buy order at the price level of your choice.

How does BitMAX OCO work?
The BitMAX platform does not yet have OCO orders in its margin trading or futures sections. Although it is likely that they will try this option in the near future.

Does BitMAX have trailing stop loss orders
BitMAX does not support Trailing Stop orders on its platform, since it only has 4 types of orders for margin trading (Market, Limit, Stop Market and Stop Limit).

How to margin trade on BitMAX?
For margin trading with BitMAX go to the "Margin" option displayed on the top bar of the platform. Once you have chosen the standard or professional mode, you can start placing orders. Buy or sell cryptocurrencies using leverage to have greater trading power while taking care of your available margin (funds that support the loan) to avoid liquidations.

BitMAX – does trade close when margin funds end?
If you have an open order and your margin level is depleted, the trade will automatically close regardless of the amount of money you have lost. The margin mechanism works in this way to prevent the exchange from having losses at the hands of traders.

How to long or short on BitMAX?
To place orders in long or short you must request a loan in the currency you want to buy/sell, then you must pay the amount of the debt and keep the benefits obtained from the price variations. For example, a trader wants to go long on Bitcoin because he believes the price will rise from $5,000 to $6,000. He will be provided with a loan of 1000 USDT, with which he can buy 0.2 BTC at $5,000. When the price rises to $ 6,000, he will sell the 0.2 BTC (which now equals $1,200) for a profit of $200.

How much leverage can you use on BitMAX?
BitMAX offers different leverage rates depending on the cryptocurrency you want to trade. However, the platform's highest leverage is 10x on assets like Bitcoin and XRP.

How much leverage per each coin can be used on BitMAX?
-BTC, TRX, XRP, ETH, EOS, LTC and BNB trades have 10x leverage, while BCH, BTT and ONE only have 5x leverage.

Can you change leverage when in a position?
Once the loan is obtained depending on the cryptocurrency that we are trading, we can decide what percentage of these funds we are going to involve in the order. When the trade is running, we can decide to buy or sell part of the order (either to pay the loan or reduce the size of the operation), so we would be alleviating (or demanding) part of the leverage.

How does Bitmax calculate liquidation?
The forced liquidations in BitMAX will happen in any trade whose available margin is reduced by 100%, which would cause the closing of the order and the possible burning of your account.

Can you trade on BitMAX from the us?
You cannot legally use BitMAX trading services if you are a US resident. However, there may be alternatives to obtain another IP address (As in the case of VPNs).

What to use other than BitMAX in the us? (legally)
US residents can use other cryptocurrency exchange platforms such as Coinbase, Kraken, Gemini, Bittrex and Poloniex. It is known that multiple exchange companies decide to stop serving the United States because of the strict regulatory policies imposed by the CFTC (Commoditiy Futures Trading Commission).

How secure is BitMAX?
The BitMAX security system is acceptable, although it does not have a cold storage fund storage system (which is very convenient for crypto exchange platforms). Users will be able to protect their accounts with strong passwords and the 2FA system.

What fees does BitMAX charge?
For cash and margin modes, BitMAX transaction fees will depend on the user's VIP level and the cryptocurrency with which they are operating. Taker fees can range from 0.015% to 0.075%, while maker fees can range from 0.00% to 0.085%, with a possible rebate up to -0.010%. For futures, taker fees reach 0.065% and maker fees 0.025% with -0.025% rebate.

What are BitMAX bitcoin spreads?
BitMAX presents a 0.1% Bitcoin spread, which is relatively low compared to that of other exchange companies. The spread can increase or decrease in other cryptocurrencies.

How to install BitMAX app?
You can search for the application from your AppStore or Google Play account under the name "BitMAX" or you can download it from the web platform, which has both versions for its users. After downloading it, the app will be installed automatically.

How to use BitMAX app?
After downloading the BitMAX app, log in to your account by entering your details. The interface will allow you to perform almost all the functions available in the web version, including deposits, withdrawals, analyze graphics and position and cancel orders.

Does bitmax app support trading tools?
Absolutely. In fact, BitMAX' standard and professional trading charts have multiple tools to determine market trends, such as drawing tools, magnet mode, trend lines and cross points.

How legit is BitMAX?
BitMAX is completely legit a users may freely withdraw their funds whenever they feel like it with the right amount according to their verification level. KYC proceidures tend to point out the commitment level of a broker/exchange towards their users.

What brokers/competitors are similar to BitMAX for Bitcoin trading?
Although there are many differences in factors such as volume of transactions and availability of cryptocurrencies, the operation of BitMAX is very similar to that of platforms such as those of Binance and Kraken.

Which trading bots can you use on BitMAX?
For automated trading with the BitMAX platform you can use bots like BotMAX, RevenueBOT and Cryptohopper. This kind of software will automatically place orders and detect possible market entries.

How to disable 2fa in BitMAX?
Once you are logged in, go to the "Home" section and search for "Security settings" in the menu of your personal account. Get the "Disable 2FA" tab and click on it. Enter your email and confirm the procedure with the code you will receive. It should be noted that withdrawals will be disabled for 24 hours after restarting/suspending 2FA.

How to delete BitMAX account?
The BitMAX platform does not allow you to permanently delete your account, although you can freeze it for a while if you feel that you are under a possible attack or are simply not satisfied with the service. However, you can always contact customer support and propose your case to analyze the total suspension of your account.