Save Money With Industry Leading BTC Margin Trading Exchanges:
Bitcoin exchange sites all have different focus, so the best fit depends on the user's needs. These aren't always easy to determine because at first, trading or investing in Bitcoin can seem intimidating. People are worried about security.
Whether you want to trade frequently, buy and hold long term, are looking for an intuitive platform, or are simply interested in privacy, the following exchange sites will meet any need that may arise.
Best Bitcoin Exchange for day Trading
The best exchanges for day trading have suitable products, such as perpetual contracts and professional order types. These include market order, stop loss, limit order, stop loss limit order, take profit, and a few others. As you search for the best Bitcoin exchange for individuals, do keep them in mind. To make this easier, we'll go into the subject of orders in some detail.
We consider these 3 platforms the best places for BTC day traders, according to the criteria discussed below:
Market and Stop Loss
Market orders make it possible to buy or sell Bitcoin at the best market quote. Stop loss is aimed at limiting losses. When placed, this order will initiate a market order to buy or sell when the market reaches the level of the stop price. For example, you don't want to lose more than 20% and you've bought one Bitcoin for $17,000. Then, you can place a stop loss order with a stop price to sell at $13,600.
Limit Order
By placing a limit order, you can sell or buy Bitcoin at a preset price or a better price. If $12,500 is the lowest current asking price for the Bitcoin/USD pair, but you think you can fill an order at a lower quote, you could place a limit order to buy at $12,475.
This works both ways. If $12,400 is the highest bid quote for this pair, but you believe you can fill your order at a higher rate, you could place an order to sell at $12,436. As soon as bids at this price or higher emerge on the market, the order will start to fill at $12,436 or higher.
Take Profit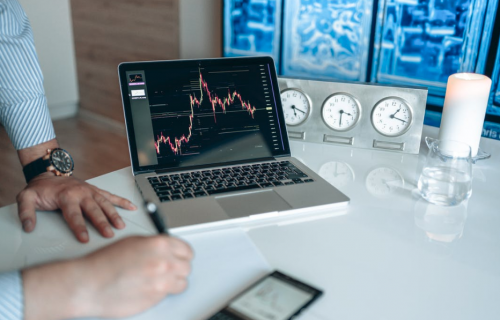 "Take Profit" is one of the most crucial orders. One usually sets their profit target as a percentage or as an absolute price value. As soon as the market reaches the target, a market order to sell or buy will be triggered as you place "take profit."
Again, this will be clearer with examples. You buy one Bitcoin for $15,000 and you set a profit target of $16,600. You can place "take profit" and set a target level of $16,600 if you want to sell as soon as the highest bid reaches that amount. However, it's important to remember that the sell order's average fill price might be less than $16,600. Placing a take profit limit order to sell would be the better option.
Trailing Stop and Take Profit Limit
Trailing stop enables investors to secure gains. For short positions, the stop is set at a specific percentage above the market price. For long positions, it's below it. This order will secure your gains by keeping the position open unless the market stops moving in your trade's direction. If that happens, the stop will close the position to minimize losses.
When you place a take profit limit order, it will initiate a limit order to sell or buy when the market gets to your target profit level.
Stop Loss-Take Profit
When the market gets to the stop price or target profit level, stop loss-take profit will trigger a market order. The market order that your take profit triggers will be filled, leading to cancelation of the other market order and vice versa.
When searching for the right platform, you should also look at liquidity, the variety of assets, and decent leverage for small trades (scalping). You need wide asset variety to be able to find more trade setups.
For more information, please refer to our post on the best day trading platforms.
Best Exchange for Bitcoin Futures
The best exchanges are Deribit, Kraken, Binance, and BitMEX. We'll go into the details of each provider below.
Deribit
On Deribit, Bitcoin futures don't receive physical delivery stock. They come with cash settlement. That means the seller of futures won't sell BTC at the price agreed.
Neither will the buyer of futures purchase the actual BTC at settlement. The only transaction that will take place at settlement is transfer of the gains or losses.
You can trade 24 hours a day, seven days a week. The minimum tick size is 0.1 USD. Settlements take place daily at 8:00 UTC. Trades always expire at 8:00 UTC at the end of the month.
The margin starts at 1.5% and increases linearly with 0.5% per 100 BTC increase in position size. Let's say you have a position of 30 BTC. The margin to maintain the position will be 1.5% + 30/100 *0.5% = 1.65%.
BitMEX
BitMex is a highly sophisticated platform, which allows users to trade crypto derivatives with up to 100:1 leverage. However, you can opt for lower leverage, as low as 1:1.
We've ranked BitMEX among the best exchanges because of the great support team, low fees, the best liquidity volumes, and near-instant account opening. You do need some background knowledge to trade here.
Binance
On Binance, users can trade futures with up to 125x leverage. If you choose 100x leverage, you only risk 1,000 USDT if you use 1,000 USDT. At the same time, your position will be valued at 100,000 USDT.
It's very simple to use limit orders on Binance. You just need to specify whether you want to long or short a contract and at what price. Then, state the value of your order at that price.
Kraken
This exchange features a user-friendly and flexible trading interface. You can trade many of the most popular cryptocurrencies with up to 50x leverage. The platform offers educational content and personal support.
Kraken Futures moved from a flat fee model to fee tiers based on volume on October 2, 2020. They also cut taker fees for all users. Taker fees have been reduced by a minimum of 33%.
Kraken was the first crypto derivatives exchange in Europe. It offers some of the lowest fees in the sector. It was also the first regulated exchange in the Old World. Thanks to mobile device optimization, it's possible to create and manage positions on the go. The platform features customizable workspaces, simplified order forms, and tooltips.
Want to know more? Click here to fill any remaining gaps in your knowledge of Bitcoin futures trading. The post you'll read is quite informative.
Best Bitcoin Exchange for Beginners
The previously mentioned exchanges are better suited for seasoned investors. However, beginners will enjoy positive and stimulating experiences on a number of other platforms, of which we're about to present brief reviews.
Cex.io
Providing users with new BTC trading opportunities, ensuring high-quality customer service, and enhancing security are all areas, in which Cex.io excels.
While the exchange is always looking for new and valuable products to add, every coin must undergo a thorough check prior to listing.
PCI DSS and other security certificates prove the service is safe. The platform is officially registered in the UK, complies with all statutory requirements of the territories, on which it operates, and has a FinCEN Money Services Business status. It boasts anti-hacker protection, two-factor authentication, and multi-signature BTC addresses. Cex.io's customer support is available 24/7. No other Bitcoin exchange is more responsive.
Binance
Binance launched their Futures trading platform at the beginning of 2020. Although this is recent by anyone's standards, its popularity grew remarkably quickly. Right now, it's the most popular crypto futures trading platform in the world.
It's very easy to transfer payouts between accounts because of the integration between Binance Futures and Spot accounts. The platform boasts a seamless user experience.
ByBit
This exchange is unique in terms of functionality. You can apply up to 100x leverage on some coins and trade with margin.
There is no KYC procedure; an email address or phone number suffices.
You can get started as soon as you activate your account, which you can do by email or SMS. The exchange doesn't ask for any personal details.
Best Exchange for Bitcoin and Altcoin Trading
Currently, these are the top 20 biggest cryptos by market cap in 2020:
Bitcoin (BTC)
Ethereum (ETH)
Ripple (XRP)
Tether (USDT)
Bitcoin Cash (BCH)
Chainlink (LINK)
Bitcoin SV (BSV)
Litecoin (LTC)
Cardano (ADA)
Binance Coin (BNB)
Crypto.com Coin (CRO)
EOS (EOS)
Tezos (XTZ)
Stellar (XLM)
Monero (XMR)
TRON (TRX)
UNUS SED LEO (LEO)
VeChain (VET)
USD Coin (USDC)
Cosmos (ATOM)
That said, the best exchanges for Bitcoin and altcoin trading are Binance, Bitfinex, and Ascendex. We compare them below.
Binance
Binance is the best platform for BTC and altcoin trading for a few key reasons. For one, you don't need actual funds to open a large leveraged position. You can use just one Bitcoin to trade 100x on Binance futures.
You can short or long on Bitcoin and altcoins to cover risk by hedging your position. Another reason involves safety and security. To trade with size, there is no need to keep big amounts of cryptos on the platform.
Binance supports crypto to crypto trading on practically every currency listed on the exchange, such as altcoin to stablecoin, altcoin to BTC, and BTC to stablecoin. A deep liquidity pool is also available.
Settlements are normally completed within minutes and take place within the platform's ecosystem. You don't have to wait for blockchain transactions or create a new wallet. No third parties are involved either. The team moves the coins being traded in and out of the user's account manually.
Bitfinex
Bitfinex features a number of key orders, such as market, limit, stop, stop-limit, fill or kill, trailing stop, and more. There is a progressive GUI and over 50 trading pairs. Its platform interface is customizable.
Traders get access to API and advanced charting functionality.
The exchange supports Bitcoin, Litecoin, Ethereum, Dash, Ripple, Zcash, Monero, EOS, Iota, and another 80 or so cryptos. There are free deposits. For margin trading, Bitfinex offers up to 3.3x leverage through its Peer to Peer platform for BTC and altcoins.
What is the best way to exchange bitcoin for fiat money?
In this section, we'll discuss the best fiat to Bitcoin exchange. Because of how user-friendly Cex.io is, we've found it to be the best Euro – Bitcoin exchange. All you need to do is click on "buy/sell" and select an amount to exchange for fiat. Of course, you must have completed the sign up process and had your identity verified before that.
The next step is entering your payment information. Click on "withdraw" if you want to withdraw from your CEX.io wallet.
Kraken
Kraken is one of the safest and best USD – Bitcoin exchanges with SSL certificates and data encryption. They have stringent protocols in compliance with PCI DSS standards.
The efficiency of the system is the main reason why we listed Kraken in this section. Your Bitcoin wallet generates a transaction with an ID when you send your Bitcoin to the deposit address.
This transaction is broadcasted to the Bitcoin network. The network confirms transactions in batches called blocks. Transactions are prioritized depending on the fee rate because blocks have limited capacity. This highly efficient process is a byproduct of the cryptocurrency's decentralized design.
Changelly
Our final choice is a quick and safe way to buy not only Bitcoin, but also more than 50 altcoins with fiat currencies like USD and EUR. It features 24/7 live support, fast transactions, and competitive fees. To buy cryptocurrency, you choose an option and enter an amount in fiat. If required, you must enter your ID information and crypto wallet address. Then, enter payment information. The exchange accepts Visa, Mastercard, and some prepaid and virtual cards.
Best Bitcoin Exchange With Credit Card Payment
The best Bitcoin exchange with credit card payment is currently Coinbase, in part thanks to its high buying limits and liquidity. This exchange is ideal for clients from North America, Europe, Singapore, and Australia. It is unparalleled in terms of ease of use. You can purchase cryptos by credit card in a matter of seconds.
Best Bitcoin Exchange With PayPal as a Payment Option
Etoro is the cheapest way to buy BTC using PayPal. It is free to create an account. You can purchase a wide variety of cryptocurrencies at low fees. The exchange has been offering a crypto wallet, which you can use to store, receive, and send cryptos, since November 2018. Other options are localbitcoins and Paxful, but their fees are higher.
Best Exchange to buy and Sell Bitcoin
The best exchange to buy and sell BTC for fiat, cash out, or trading purposes is (again) Coinbase. It is easy to transfer funds and convert them from and to Bitcoin once you sign up and connect a bank account. The most popular fiat is USD. For US transactions from a Coinbase wallet denominated in USD or a bank account, a variable percentage fee is 1.49% is charged.
You can buy, sell, or trade BTC using a debit or credit card. This will incur an additional fee of 3.99%.
Coinbase insures cash balances against breach or theft in any amount up to $250,000. Moreover, the exchange protects client balances from hackers by holding 98% of currencies offline. Coinbase does not accept USDT.
Other good exchanges to buy and sell BTC are Kraken and Cex.io. Kraken allows withdrawals and deposits of USDT on the ETH and BTC blockchains.
Best Exchange to Short Bitcoin
Kraken offers short selling on BTC, ETH, ETC, REP, USDT, XMR, XRP, and BCH in exchange for EUR, USD, CAD, GBP, and YEN. Margin trading with up to 5x leverage is available.
Best and Cheapest BTC to ETH Exchange
CEX.io's fees are extremely low, ranging from 0.16% to 0.25% depending on your side in the transaction. In comparison, brokerage trade fees can reach 7%.
Best Bitcoin Wallet and Exchange Platform
Again, this is Coinbase. It's particularly suitable if you're new to Bitcoin, making selling and buying very similar to selling and buying stock through a brokerage account. You can hold more than 20 cryptos in your wallet.
Best Bitcoin Exchange With the Lowest Fees
Trading fees and market buy/sell vs. limit orders can make a huge difference. Etoro has a low fee of just 1.5% for BTC. This is in contrast to Kraken, whose fee schedules are volume-based. The higher your traded volume, the lower your fee on your next trades. You can see an overview at Kraken's website under Fee Schedule.
Best Bitcoin Exchange Mobile App
We choose Currency.com mobile app due to its wide variety of deposit methods, creative design, and low fees. This app lets you buy and sell crypto-based tokens, not real cryptos, which is an advantage traditional markets have. The app also offers welcome bonuses of up to $100, the option to trade with up to 500x leverage, and more than 70 free technical indicators. Currency.com is also the first regulated cryptocurrency trading app available for Android and IOS that enables margin trading.
With this, we conclude our article on the best BTC exchange. Thank you for reading!