Click here to get $200 Deposit Bonus for deposits from 0.2 BTC.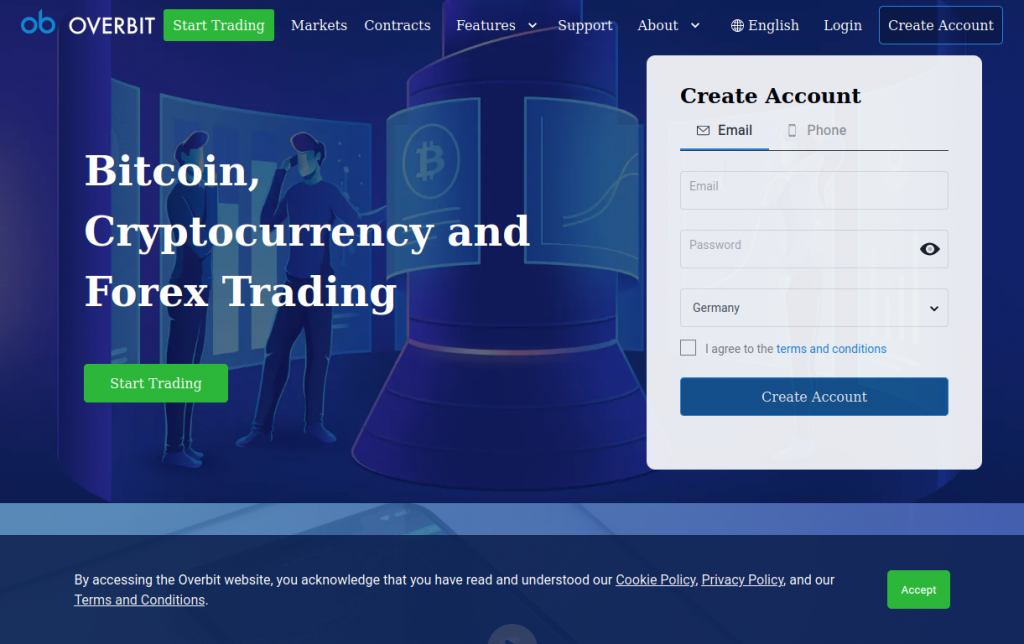 Visit Overbit Platform
and get $200 Deposit Bonus
Facts & Data about Overbit:
Headquarters in: Seychelles, London, Moscow, Hong Kong and Singapore.
Company Jurisdiction / Registration: Seychelles
CEO / Owners: Chieh Liu
Overbit Discounts & Coupons:
(once per user)
Overbit Trading Fees in detail:
No fees but it does have a spread
With Perpetual Contracts: Daily fluctuating funding interest rates for leveraged positions
Deposit & Withdrawal fees:
no deposit fees
no withdrawal fees
Minimum Deposit / Withdrawal Amount:
Deposits: 0.0001 BTC
Withdrawals: 0.0001 BTC
Supported FIAT Currencies:
No supported fiat currencies
Visit Overbit Platform
and get $200 Deposit Bonus
Supported Order Types:
Market Orders
Stop Market Orders
Limit Orders
Stop Limit Orders
Supported Trading Pairs for Margin Trading:
BTC/USD, BTC/JPY, BTC/GBP, BTC/AUD, BTC/CAD, BTC/CHF, BTC/KRW, BTC/CNY, BCH/BTC, BCH/USD, ETH/USD, ETH/BTC, XRP/USD, XRP/BTC, ADA/BTC, LTC/USD, LTC/BTC, EOS/BTC, ETC/USD, NEO/BTC, NEO/USD.
Leverage per Coin:
Up to 100x for all cryptocurrencies.
Overbit Futures
Perpetual futures contracts
Supported Countries:
Worldwide, except regions that forbid cryptocurrency derivatives margin trading
Overbit is banned in:
Crimea, Sevastopol, Cuba, Iran, North Korea, Quebec (Canada), Seychelles, Singapore, Sudan, Syria and United States of America.
Overbit Discussions on Reddit and others:
Overbit Mobile App?
No mobile app.
Overbit How-To´s and Guides:
Visit Overbit Platform
and get $200 Deposit Bonus
Frequently asked Questions about Overbit
What is Overbit?
Overbit is one of the most recognized trading platforms in the crypto, forex and commodities market for its excellent security system, liquidity levels and functionality. Overbit trading solutions can be exploited by common users and/or financial institutions.

Who owns Overbit?
The Overbit platform belongs to the company Abberton Trading Limited, which is registered in Seychelles. Through this company, the online broker's legal and registration frameworks are administered, while the operation of the platform is carried out by a work team under the direction of Chieh Liu.

Who's Overbit's CEO?
Chieh Liu is the founder and CEO of Overbit, who through his financial insights and entrepreneurship, discovered an opportunity in the crypto market for this trading platform. In addition to running Overbit, Chieh is also recognized in Asia for his instructions on blockchain and how we can take advantage of it.

Where is Overbit located?
Overbit has several offices around the world that are responsible for managing the platform's operations, and are located in Seychelles, London, Moscow, Hong Kong and Singapore.

When was Overbit founded?
Guided by his experience and the potential opportunities uncovered in the crypto market, Chieh Liu started working on the Overbit foundation in 2017.

Who regulates Overbit?
The Overbit platform responds to the regulations of the Seychelles law. Each exchange company needs to register its service in a country whose regulations allow the functional development of its platform.

Where is Overbit banned?
Overbit has a list of restricted jurisdictions, that is, countries where they cannot offer their trading service due to regulatory agreements. Platform laws cannot be applied in Crimea, Sevastopol, Cuba, Iran, North Korea, Quebec (Canada), Seychelles, Singapore, Sudan, Syria and United States of America. Any country that is not on that list can access Overbit services.

Is Overbit allowed in the USA?
As previously mentioned, Overbit is not available to users residing in the United States due to regulatory disagreements.

How many users does Overbit have?
Until now the exact number of Overbit users is unknown. However, the community is large enough to maintain a high trading volume. By mid-2019 Overbit had registered more than 40,000 users.

What can you trade with Overbit?
Overbit not only has perpetual contracts for cryptocurrencies, it also offers its users trading in the Forex and Commodities markets. It should be noted that each market has its peculiarities and assets, but Overbit accounts will be funded through Bitcoin or USDT.

How does Overbit make money?
Overbit receives profits through the spread on each asset in every market. Assuming the real BTC price is $8.410, the platform will show a $8.420 Bitcoin price. Overbit calculates the contracts price and benefits of that price variation.

How to sign up to Overbit?
The registration process for Overbit is very simple. You can create an account using your email or your phone number and you must specify your country of residence in both cases. Create a strong password and confirm your registration in your email address or confirmation code through 2 Factor Authentication. In any case, you have to accept the terms and conditions od the Overbit service in order to sign up.

Does Overbit have KYC?
Overbit requires users to complete a Know Your Customer (KYC) process to recognize them as certified platform members. Although you can fund the account and place orders in any of the markets, you will need to carry out this step in order to withdraw your earnings.

Overbit vs Bitmex – What's the difference?
BitMEX is a platform dedicated to trading futures and perpetual contracts for Bitcoin and other cryptocurrencies, while Overbit includes other markets (such as forex and commodities) through perpetual contracts trading. Another differential aspect between the two platforms is BitMEX's trading volume, which ranks second among all exchange companies (Binance being first).

What's the minimum stake for trading on Overbit?
The minimum trade will depend on the margin you have available to cover the leverage. For example, you will not be able to open a $ 50 trade if you are placing an order with 50x leverage. Depositing the equivalent of $ 100 USD (0.01 BTC) could cover the margin of a 30x leveraged order. You can calculate the initial margin of your trades with the following formula: (1 x Quantity) / Leverage + Spread.

How many coins are on Overbit, which coins does Overbit offer for trading?
Overbit has a decent list of cryptocurrencies (8 coins), among which we can trade Cardano ADA, Bitcoin, Bitcoin Cash, EOS, Ethereum, Litecoin, NEO and Ripple. These cryptocurrencies will be set against USD, JPY or BTC as trading pairs.

How to deposit btc into Overbit?
Overbit has a Bitcoin wallet implemented on its platform to which you can send BTC tokens. You must log in to the wallet where you keep your BTC and send the desired amount to the BTC address that Overbit provides you. Once the transaction is completed, the funds will be reflected in your Overbit account.

How does Overbit trading work?
In general lines, you must carry out an analysis on the market and determine a trend in a certain currency. Assuming that you are trading BTC / USD and you detect an opportunity to buy (long), you will be conducting the trade through a perpetual contract whose value accompanies the underlying currency. If your target price is achieved you will receive profit from price movements.

How does leverage work on Overbit?
Leverage works like a bank line of credit. In other words, the platform lends you greater trading power than you really have and allows you to place large orders. In this way, you can increase your profits in shorter market movements.

What leverage rates are available on Overbit?
It is important to note that the leverage levels are different for each trading product. However, the maximum leverage for cryptocurrencies is 100x, while for assets in other markets it is 500x. This is because cryptocurrencies are much more volatile than currencies in the forex market.

How to long bitcoin on Overbit?
Go to the "margin trading" menu where you will find charts and the types of orders available. In the "Place order" section specify the size of the trade, the leverage, take profit and stop loss. Choose the "Buy" option and your order will be issued to the market.

How to short bitcoin on Overbit?
Being in the Margin Trading menu and choose the pair of your preference, go to the order menu (Place order) and fill in the "amount", "take profit" and "stop loss" fields to control the development of your order . Press "Sell" and the trade will enter the market.

How to place a stop loss on Overbit?
When filling the place order fields find the "Stop loss" option and specify the price level you want your order to stopp if the marked turns the price against you.

Does Overbit have a stop market and stop limit?
Although being able to establish a direct "stop loss", you can use a stop / limit order by editing your original trade. Look for the "Edit" button and add "Add stop / limit". It is important to note that there is a limit to the stop and limit price.

How to take profit on Overbit?
In the order menu within the trading section look for the "Take Profit" field and specify the price at which you want to close the trade and collect profits. Position your order and watch its development.

Can you change leverage when in a position on Overbit?
In Overbit you must specify the leverage before placing an order on the market. However, you can set two simultaneous orders with leverage as long as you have enough margin.

How long can you hold a position on Overbit?
The positions will be kept open for as long as necessary as long as there is a margin to cover the trade. Even though the platform does not charge commissions for each order, leveraged trades can always be dangerous.

When you leverage on Overbit can you lose more then your investment?
No. Let's say you have 0.01 BTC and you place an order with 10x leverage, which gives you a trading power of 0.1 BTC. Assuming that the price takes unexpected courses and the market turns against you, you can only lose the margin necessary to maintain the size of your order, so if your own funds run out, it will be closed.

How to close your Overbit positions?
Overbit allows you to cancel your positions whenever you want with just a couple of clicks. Find the position menu, choose your order and click "close", your position will have been canceled.

Where does Overbit get its btc price?
Overbit calculates the price of Bitcoin by averaging the highest volumes of other exchange companies and the availability of the assets in the order book. The price will be calculated with each individual exchange and then averaged.

What are the trading fees at Overbit?
Overbit has no trading fees on its platform, as it receives profit from each asset's price spread. Overbit does not charge commissions for deposits to the BTC wallet, but a small mining fee is deducted from your balance when making a withdrawal.

Does Overbit have funding fees on leveraged positions?
Funding must be paid by or to traders depending on whether a position is held during the specified hours (01:00 UTC, 09:00 UTC and 17:00 UTC) every 8 hours. Funding rates will depend directly on the sum of Borrowing Premium and Interest Rate.

Does Overbit have an insurance fund?
Yes. The insurance fund will never allow you to go into debt with the company, so if you run out of money to cover a loss, insurance ford will be used to seal the contract.

Does Overbit have an app for mobile phones?
Overbit does not have an official application for mobile devices. However, users will be able to access the platform with their phones from the default browser without problems. The functions for the web version are also available from a mobile device.

What bots work on Overbit?
There are multiple trading bots in the crypto community that work for different exchange platforms and leveraged trading, although there are not many recognized options for Overbit. However, signal groups can be an alternative for beginning traders.

How to close an Overbit account?
Contact the customer support team and explain your case. If you want to permanently suspend your account. The Overbit team will be able to assist you in your request.

Visit Overbit Platform
and get $200 Deposit Bonus