Bitseven has discontinued its trading services in spring of 2021. The platform will no longer be accessible from August 2021. According to Bitseven, the reason for the end of its operations are unsolvable technical problems.
Top 3 Bitcoin Futures Brokers as ideal Alternative to BitSeven:
| Broker | Leverage | Cryptocurrencies |
| --- | --- | --- |
| | 1:100 | BTC, ETH, XRP, EOS, 100+ more altcoins |
| | 1:200 | BTC, ETH, LTC |
| | 1:125 | BTC, ETH, ADA, LINK, BNB, TRX, DOT, EOS, LTC, BCH, XRP, ETC (Futures) |

The following content refers to former trading platform BitSeven which has been shut down.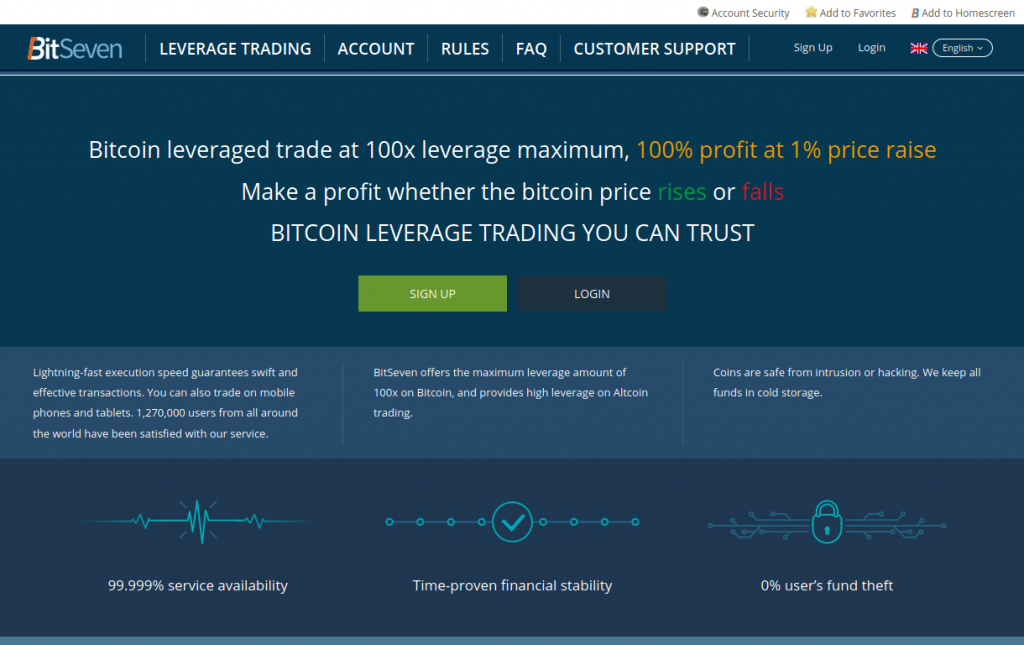 Facts & Data about BitSeven:
Headquarters in: Zurich (Switzerland), Tsim Sha Tsui in Hong Kong (Japan) and Belize City (Belize).
Company Jurisdiction / Registration: Belgium.
CEO / Owners: Malik Amurlayev
BitSeven Discounts & Coupons:
BitSeven Trading Fees in detail:
Bitcoin (BTC) 1x leverage -0.075%
Ethereum (ETH) 1x leverage – 0.151%
Litecoin (LTC) 1x leverage – 0.193%
Ripple (XRP) 1x leverage – 0.195%
Deposit & Withdrawal fees:
No deposit fees
0.001 BTC withdrawal fees
Minimum Deposit / Withdrawal Amount:
0.001 BTC minimum deposit
0.001 BTC minimum withdrawal
Supported FIAT Currencies:
BitSeven does not support fiat currency deposits/withdrawals.
Supported Order Types:
Limit orders
Market orders
Supported Trading Pairs for Margin Trading:
BTC/USD
ETH/USD
XRP/USD
LTC/USD
Leverage per Coin:
BTC/USD – 1:100
ETH/USD – 1:50
LTC/USD – 1:40
XRP/USD – 1:30
Supported Countries:
Worldwide, including the United States of America.
BitSeven Discussions on Reddit and others:
BitSeven Mobile App?
BitSeven has no mobile app.
BitSeven How-To´s and Guides:
______________________________
Frequently asked Questions about Bitseven
What is BitSeven?
BitSeven is a popular and advanced cryptocurrency trading and exchange platform with high levels of liquidity and low commissions. The fluidity of the trading system and the leverage levels satisfy the BitSeven user community, who maintain the transaction volume of the platform.

Who owns BitSeven?
The BitSeven platform belongs to the company BitSeven Global Trading Limited, whose executive board decides the future and sets the rules for trading functions.

Who's BitSeven's CEO? When was it founded?
The founder of BitSeven is a full-stack web developer called Malik Amurlayev, who created the crypto exchange on March 10, 2017 under Belgian jurisdiction. BitSeven would be one of the most significant projects of Malik, who has a recognized career as a developer.

Where is BitSeven located?
BitSeven's headquarters are located in Zurich (Switzerland), Tsim Sha Tsui in Hong Kong (Japan) and Belize City (Belize). These headquarters manage the operations of the crypto exchange from their facilities.

Who regulates BitSeven?
BitSeven's operations are subject to the regulations of the countries where it currently operates. However, the BitSeven platform has had no setbacks for regulatory reasons.

Is BitSeven allowed in the USA?
American residents can register and use BitSeven's trading services freely. Despite the fact that the exchange closed its doors to the United States a couple of years ago, it reopened them shortly after.

What countries does BitSeven allow?
The BitSeven platform is available worldwide. Until now, the exchange has not spoken about new blocked countries or restrictions on its services.

How many users does BitSeven have?
Although the current numbers are unknown, BitSeven surpassed 200,000 users for last year. We could say that it is a significant community, taking into account that the exchange has only been in the crypto market for 3 years.

What can you trade with BitSeven?
BitSeven only supports trading with 4 cryptocurrencies: Bitcoin, Litecoin, Ripple, and Ethereum. These currencies will be traded as pairs through perpetual contracts alongside USD in leveraged trades.

How does BitSeven make money?
BitSeven makes profits from transaction fees charged each time a user places an order on the market. Also, BitSeven's BTC withdrawal rates are a bit high (0.001 BTC). The platform does not charge commission for deposits.

How to sign up to BitSeven?
Go to the official BitSeven website (BitSeven.com) and click the "Sign up" button. The platform will request your main data such as full name, email, phone number and a strong password. Once the registration is complete, you can confirm the process by email that BitSeven will send you and you can successfully log in.

Bitseven vs Bitmex?
Mainly, BitMEX is a platform specialized in future and perpetual contracts of Bitcoin and other cryptocurrencies, while BitSeven focuses only on margin trading. In addition, the interface of both platforms are very different, being BitSeven simple and BitMEX more complicated and dedicated to professional traders. Transaction fees are also a comparative point between both platforms, as well as the time they have been in the crypto market.

Primexbt vs Bitseven?
PrimeXBT is a universal platform for financial markets, since it allows trading with commodities, cryptocurrencies, Forex and indexes, while BitSeven is exclusively for 4 cryptocurrencies. It should be noted that PrimeXBT's trading options are much more advanced and complete for all types of orders than BitSeven's. Also, it is cheaper to withdraw funds from PrimeXBT than from BitSeven.

What's the minimum stake for trading on BitSeven?
You can start trading with 0.001 BTC (which is currently equivalent to almost $10). Although with 0.001 BTC there is not much margin for protecting leveraged trades, orders can be placed with this amount.

How does leverage work on BitSeven? What leverage rates are available?
BitSeven offers 1: 100 leverage for BTC/USD trades, 1:50 for ETH/USD, 1:40 for LTC/USD, and 1:30 for XRP /USD. Leverage allows users to enter the market with a higher trading power than they actually have, just as it would be in the case of a bank loan. If during a trade the price moves against the user's position, funds will be deducted from the available margin among the real funds of said user. If the trader runs out of margin, his position will be liquidated and the platform will recover his loan just before taking losses.

How to deposit btc into BitSeven?
BitSeven has a multi-signature address in its BTC wallet, which you can use when specifying the transaction data (amount and address) from another BTC wallet. Once the deposit is confirmed, the funds will be available in your account.

How to send bitcoin from Coinbase to BitSeven?
Log in from your Coinbase account and choose your BTC wallet in the "Portfolio" section. The transaction menu will ask you to fill in the address and amount fields in order to complete the transaction. When you have accepted, it will be a matter of time before the funds reach your BitSeven wallet.

Can you use exodus for deposit and withdrawal in BitSeven?
No. BitSeven supports only Bitcoin deposits and withdrawals, at least for the moment.

How does BitSeven trading work?
BitSeven consists of perpetual contracts trading with Bitcoin and other cryptocurrencies, which means that you are buying and selling a value underlying the real token with no expiration date. After your market analysis is complete, you will have to trade the cryptocurrency that you chose and obtain benefits from price variations.

How to long bitcoin on BitSeven?
After entering the leveraged trading menu you will see on the right a menu of orders, where 2 options appear; Buy (long) and sell (short). If you think that Bitcoin (for example) will increase in price, you should set a buy order with a target price, which will give you profits once it is reached.

How to short bitcoin on BitSeven?
Go to the leveraged trading menu and locate the "sell (Short)" button next to the "buy (long)" button. If your analysis determines that the price of a cryptocurrency is going to fall, specify your target price and enter a sell order.

Is trading short and long at the same time possible on BitSeven?
BitSeven allows you to set two orders simultaneously as long as you have the funds to back those positions. In other words, you must have sufficient margin to avoid quick liquidation on one of the orders.

What is anti-liquidation on BitSeven?
Anti-liquidation is a tool that BitSeven has to expand the available margin through a new order in the same direction, as long as the user has the funds to do so. For example, if a trader invests his 10% in a 10x leveraged order and the price goes against him, he may enter a new, larger order with the same target to expand the margin.

How to place a stop loss on BitSeven?
BitSeven does not have stop loss or take profit orders, so the trader must manually calculate their loss system and stop operations that are not going according to plan.

Can you change leverage when in a position on BitSeven?
Assuming a case in which an order has already been entered into the market, it is impossible to modify its level of leverage, since BitSeven asks to specify said "loan" before setting the order.

How long can you hold a position on BitSeven?
Because perpetual contracts do not have an expiration date, an order may remain in place as long as it is as long as you have the capital to support the margin against price movements and commissions. However, BitSeven allows you to hold a position for 240 hours. If you haven't reached your target price within 10 days your position will be automatically closed.

When you leverage on BitSeven can you lose more then your investment?
Importantly, BitSeven will never lose if a leveraged order goes wrong. In the worst case, an order will be settled and you will lose all your available margin even though that means your account reaches 0.

How to close your BitSeven positions?
You can close positions at a specific price or at the market price. Below the chart, you will see your open orders and press "Sell" to cancel an order in progress. The price at which the position will be sold can be specified under the "Sell Limit" tab.

Where does BitSeven get its btc price?
BitSeven, like other cryptocurrency trading platforms, averages market volume with price in order to establish a fixed value as buy and sell orders come in.

What are the trading fees at BitSeven?
BitSeven charges different fees for each cryptocurrency on transaction fees: Bitcoin Orders – 0.075%. Ethereum Orders – 0.151%. Litecoin – 0.193%. Ripple – 0.195%.

Does BitSeven have funding fees on leveraged positions?
BitSeven does not have rebates or funding fees for leveraged trades. However, the level of leverage can influence how much a trader will be charged when placing an order.

Does BitSeven have an insurance fund?
Since BitSeven does not perceive losses from leverged trades due to its punctual liquidation system in perpetual contracts, it does not establish any storage protocol for insurance funds.

What's BitSeven api and what to use it for?
API keys are programming codes used to authenticate logins and can be used to increase the security system of your BitSeven account. Some APIs can even implement automatic trading functions and tools for users.

Does BitSeven have an app for mobile phones?
BitSeven does not have a mobile application for Android or iOS devices. However, any user can enter the platform and place orders from their mobile device without further limitations. Although analyzing charts is not as comfortable as from a computer, users will be able to keep track of price movements and determine their market entry.

What bots work on BitSeven?
There are currently no recognized trading bots serving the bitSeven market, as they are specifically focused on other platforms such as Binance, BitMEX, Bittrex, Kraken, etc. However, new automated trading services emerge every day so it's a matter of time to explore this option on BitSeven.

How to close a BitSeven account?
Although you can recover/access a blocked account, you cannot directly close your account from the BitSeven platform. The customer support service will take into account all your concerns and if you want to permanently delete your account, you can contact them and raise your case.