Save Money With The Leading BitSeven Alternatives:
It wouldn't be an understatement to say cryptocurrency is in its heyday. In economically uncertain times, lay and experienced investors alike seek refuge in this transparent medium.
The market cap reached USD 265.545 billion in May 2020. By 2023, the blockchain market value is expected to exceed USD 23 billion. The CAGR of the cryptocurrency market is anticipated to increase by 56.4% from 2020 to 2025. As you can see, the outlook is very promising.
We will discuss trading platforms such as Bybit, Primebit, Phemex, Binance, and other similar providers in this in-depth, detailed review.
BitSeven Services (before Platform Shutdown)
Bitseven has ceased all business activities in early 2021. There seems to be no further plans for a future return of their trading platform. So, in order to trade Bitcoin and major altcoins with leverage, you inevitably have to turn to alternative platforms.
What will we be looking for, what made BitSeven unique?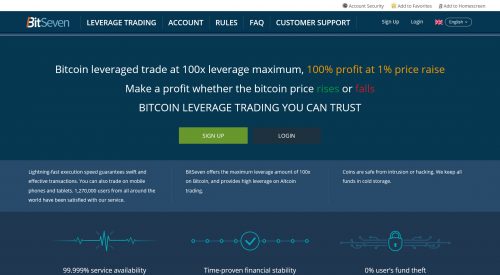 Bitcoin remains the reigning champion of cryptocurrency, accounting for USD 6 billion of transactions that take place online every day.
Since 2021 Bitseven is no longer active. The margin trading platform had enabled Bitcoin derivatives trading with 100X leverage, which means that you could get your investment x 100 in favorable (but highly unlikely) market conditions. The platform even offered the same leverage for other cryptos, such as ETH, LTC, and XRP.
No ID verification was required. It was easy and simple to sign up. There were no deposit or withdrawal restrictions. The platform boasted an intuitive interface and high liquidity.
If you opted for leverage trading, you could sell or buy a currency, the value of which could be a number of times higher than the funds available to you. In unfavorable conditions, you risked losing quite a bit or even all. Typically, exchanges will not let users lose more than they can cover, so did Bitseven.
Convenience
BitSeven enabled users to execute and order in both directions. This was a unique feature no other Bitcoin broker has ever offered, which is still the case. The site took into account that people can change their minds about a trade. You didn't need to close your position to switch between long and short (UP and DOWN).
BitSeven had boasted hundreds of traders from across the globe since 2017. The platform was better suited for traders with experience because the extreme leverage trading can be scary to a novice. The company was accessible to people from all over the world with diverse backgrounds. They had offices in Belize City, Zurich, and Tsim Sha Tsui, Hong Kong.
Below you will find a number of trading platforms that are comparable alternatives to Bitseven
Alternatives to BitSeven – Brokers With the Most Similar Features
Bybit: Up to 100x Leverage and no KYC
Bybit also has the option of up to 100x leverage on the currencies, which it makes available for trading. You can change your leverage at any time.
Let's briefly explain this concept. If you bet 100 dollars with this leverage and the value of your cryptocurrency of choice increases by 10%, you will make an additional 1,000 dollars. This is 990 more than if the transaction had not been leveraged.
As with everything else in life, this works both ways. You will lose 1,000 dollars if the value drops by 10%, compared to a loss of 10 dollars if you don't use leverage. However, the platform won't let you lose more than your equity in your account, so your position will get liquidated as soon as your 100 dollars are gone, which in this case already occurs with a 1% price drop.
Bybit does not have the most stringent of KYC requirements. The company does not collect biometrics such as facial recognition data and fingerprints. During the ID verification process, you will be asked to provide photo ID and/or a video of yourself. Facial recognition software may process this for the purposes of safety and security. The user's device handles biometrics when they enable biometric security, such as login by face ID or fingerprints.
What Currencies can I Deposit?
Bybit accepts deposits in BTC, ETH, EOS, XRP, and USDT. Currencies such as BCH, TRX, and LTC are not accepted.
Deposit and Payout Restrictions
There is no minimum deposit requirement. You can deposit any amount you want. You must make sure you've linked your account on the platform to the address indicated for withdrawal on your wallet. If you haven't, your withdrawal request will be rejected. Your balance is cleared to zero after you submit a withdrawal request successfully. This includes any remaining bonuses.
About Bybit
This company is among the fastest-growing exchanges for cryptocurrency derivatives. Its registered users exceed one million in number even though it was only launched in March 2018. It is headquartered on the British Virgin Islands. The exchange focuses on the ETH/USD and BTC/USD trading pairs.
One thing that makes Bybit unique is its incredibly impressive rate of transactions per second (TPS) – up to 100,000! Anyone with an interest in leveraged trading will find this to be of advantage.
Security
Bybit has never been hacked. They have always taken preventive measures to make sure their platform offers optimal trading security. When you make a deposit on Bybit, your funds will be held in a "cold" storage wallet. This is a wallet stored on a platform without an internet connection. It is protected from unauthorized access and use. Keeping cryptocurrencies online increases the attack surface or risk of having your funds stolen as they are a digital asset.
Moreover, Bybit makes continuous efforts to improve the platform's reliability and safety. They launched a new "mark price" system and "spot price" index in September 2019. These features make it even less likely for someone to inflict damage by manipulating the market through the broker's platform.
Primebit: Innovative and Groundbreaking
PrimeBit features a novel product and an innovative approach to trading. Even beginners will find this platform easy to use. The exchange stands apart from the competition by maintaining the first platform of its kind: one for P2P cryptocurrency derivatives with leverage reaching 200x.
PrimeBit was also the first exchange to achieve full integration of MetaTrader 5, the hallmark global trading tool.
The broker accepts Bitcoin deposits only. You can buy BTC from all major exchanges. No minimum deposit is required. Deposits in BTC are credited after network confirmation. You will get a free, individual, BTC-compatible, digital wallet when you register as a PrimeBit customer.
The withdrawal process is quite simple. After you log in, select "withdrawal" by clicking on the icon to the right of "Web Trader." All users have to set up 2FA (two-factor authentication).
On PrimeBit, you can trade BTC/USD, LTC/USD, ETH/USD, BTC/USDT, LTC/USDT, and ETH/USDT through perpetual contracts. Tether and BTC are the only acceptable currencies for payment.
Like all of the other providers discussed in this review, PrimeBit takes security very seriously. 99.9% of customer funds are stored in a cold wallet. The risk of the platform being hacked is minimal when funds are stored offline.
PrimeBit is one of the newest market players, established in April 2019. The company behind this platform is PrimeBit Ltd., which is headquartered in St Vincent and the Grenadines. PrimeBit is not accessible to traders from the United States and a few other countries due to local laws and regulations.
PrimeXBT: Up to 1,000x Leverage!
PrimeXBT also has leveraged trading for various assets, which is one of its main selling points. The exchange supports six cryptocurrency pairs with a maximum leverage of 100x. Some trades are not for the faint of heart. There is up to 1,000x leverage on certain commodity and forex assets!
The platform uses the liquidity provided by market makers and bigger exchanges in the industry to its advantage. Their liquidity is "pooled", or aggregated, from more than 10 different exchanges.
Deposits in Fiat Currencies are not Accepted
This exchange is limited to cryptocurrencies. Funding and deposits in fiat currencies are not accepted. It is only possible to make deposits and withdrawals in Bitcoin. You can use Kraken, Bitstamp, or another "fiat gateway" to buy BTC. Once you've done that, it's easy to get started. To fund your account, click on the "deposit" button in your account section. You will access your Bitcoin address on PrimeXBT's deposit page. You can trade six different pairs, as mentioned: ETH/USD, BTC/USD, EUR/USD, EUR/JPY, GBP/USD, and USD/JPY.
Duedex: A Simple and Quick Platform for Beginners
Duedex offers leveraged trading with a margin of up to 100x. Deposits are only accepted in BTC. Duedex features platform latency of less than 0.01 seconds, a demo trading account to learn the ropes, and no ID verification requirements. Its mechanism for fair price marking makes market manipulations impossible.
Proprietary Risk Manager
The proprietary risk manager helps budding traders prevent liquidation and manage trade risk. With it, you can adjust the account equity risk from a value as low as 0.25% per transaction. You do this by setting the risk at a given percent or points. The system adjusts "position size" and "stop" according to the risk you set. This process is automatic.
It's also possible to visualize trade and set "take profit" to see a custom ratio of potential risk and reward prior to executing each trade.
Duedex will not ask for any ID documents or personal data for the purpose of registration and login. There are no KYC requirements as you can only trade Bitcoin on this platform and no fiat-to-cryptocurrency ramp exists.
Duedex's great user interface and features make up for the fact that it does not offer Ethereum, Ripple, Litecoin, and other major crypto pairs.
Phemex: Trade at the Speed of Light
Phemex was founded by Morgan Stanley executives in Singapore in November 2019. They began by offering BTC perpetual contracts and other products typical of a cryptocurrency derivatives exchange. The maximum leverage on all the products is 100x.
Phemex launched a novel spot trading service with zero fees in May 2020. On the platform, you can trade BTC, ETH, XTZ, LTC, XRP, LINK, ONT, BCH, ADA, TRX, and NEO against USDT for free. In contrast, many of the best-known exchanges will charge a commission of up to 0.50% each time you purchase or sell a crypto.
The most notable aspect of Phemex is its processing speed of 300,000 trades per second. This is a huge pro because we want to be able to execute trades very fast and reliably in times of high volatility.
Security is Top Priority
Phemex takes safety and security very seriously. 100% of assets are stored offline in cold wallets. The team monitors withdrawals very carefully. Each withdrawal has to be approved by two human signatures offline before it can be processed.
Phemex makes gold futures available. In a recent interview with techbullion.com, Phemex founder Jack Tao stated the exchange has plans to explore markets beyond crypto, possibly forex, commodities, and precious metals. He added that, "Entering traditional markets (has been) far more challenging than expected."
Binance: Like BitSeven, but With a lot more Extra Features
Binance was founded by Changpeng Zhao, its current CEO, and Yi He in 2017. The broker is headquartered in Malta. After registering and undergoing account ID verification, you can opt for a wide variety of services, including P2P fiat trading, crypto-to-crypto trading, leveraged trading, contract trading, Binance savings services, margin trading, staking, cryptocurrency lending, acquiring market-related research, data, and other information that the platform releases, spot market exchange, and futures.
Functions and Features
Binance's main function is a global online platform to trade digital assets. Users avail not only of an exchange platform, but also technical services, financing services, and other services related to digital assets.
Users of Binance Futures can adjust the leverage, at which they trade. Options range from 1 to 125x. The default setting for perpetual contracts is 20x. The position's notional value determines the maximum leverage available to traders. In general, the higher the position, the lower the permitted leverage. The leverage chosen by the user is used to calculate initial margin deposits.
KYC and Deposit Restrictions
Binance requires ID verification. Future users must undergo a stringent procedure that includes uploading an ID card, a passport, a driver's license, or another ID document. Currently, you can deposit BTC, ETH, XRP, and traditional currencies such as the USD and the naira (Nigeria).
Binance has two limit levels when it comes to payouts. Level 1 accounts cannot withdraw more than BTC 2 in 24 hours. Level 2 accounts can withdraw up to BTC 100 in that same period of time.
Has It Ever Been Hacked?
How could we forget… In May 2019, it emerged that 7,000 BTC had been stolen from the exchange in a hacker attack. At the time, this value corresponded to around USD 40 million. Binance did not halt trades, but they paused withdrawals and deposits. They promised to compensate their users through their secure asset fund.
Around that same time, reports that Binance was based in Malta surfaced. The Malta Financial Services Authority, a well-recognized global cryptocurrency trade watchdog, stated that it had not authorized Binance to "operate in the cryptocurrency sphere".
Deribit: A Platform for Experienced Investors
Deribit attracts primarily experienced cryptocurrency traders from around the world. The entry barrier is relatively high and users need to have at least some background knowledge of options and futures. While the platform has many videos explaining its procedures and processes, it's assumed the user has some prior knowledge. Futures and option trades for BTC and ETH are available. While this doesn't seem very impressive, the number of traders looking for Bitcoin futures is constantly increasing.
On Deribit, leverage of up to 100x is possible. The platform has two different ID verification levels. On level 0, only basic details are required. Proof of ID is required on level 1. In addition, the distinction between retail and corporate KYC is made.
Deposit and Payout Restrictions
You can't deposit USD, EUR, or other fiat currencies. Exceptions are subject to further announcement. Deribit only accepts deposits in Bitcoin. To make a deposit, you need to find your Bitcoin deposit address in the menu under Account > Deposit.
About the Company
Deribit is based in Panama and lists derivatives valued in USD. It was launched by John Jansen in June 2016. Jansen is still CEO of the company. Daily operations are run from Amsterdam.
Deribit is a Dutch company. As such, it is registered in the Register of Commerce of the Netherlands. More specifically, you'll find it under the trade name Deribit B.V. Its most recent registration dates from August 15, 2017. Before, they were registered under a different number in the Chamber of Commerce.
John Jansen and Marius Jansen make every effort to remain at the forefront of the buoyant, volatile, and exciting market for cryptocurrency derivatives. The platform undergoes consistent development in line with the expectation that everyone will use and trade cryptocurrencies in the future.
How Safe is the Platform?
Deribit has never been hacked. The platform is user-friendly without compromising security, which is yet another reason for more experienced traders to prefer it. 95% of assets are stored in a cold wallet offline. Deposits and withdrawals are as safe as they can be. It is recommended to set up two-factor authentication to ensure maximum safety of investments and funds. 2FA is no exception today. It's become a market standard.
Final Thoughts
Hopefully, you found this review helpful. There are many other exchanges apart from these to choose from. It's best to select one based on your level of experience and preferred cryptocurrency trading pair. Do not disregard safety protocol and never trade more than you can afford to lose.