Click here to get 10% Discount on your Primebit Trading Fees.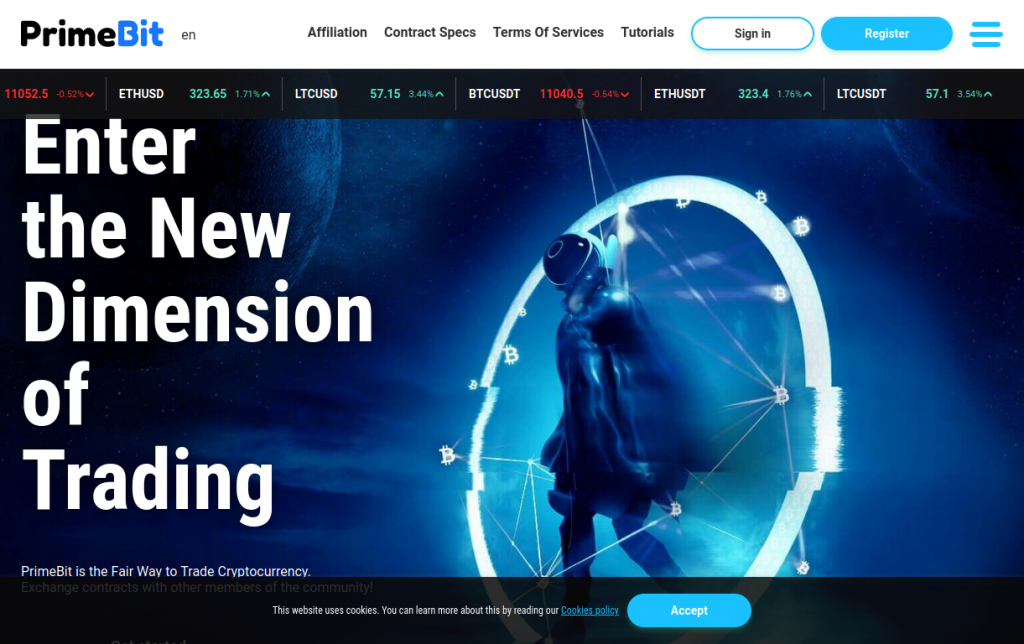 Visit PrimeBit Platform
and get 10% Fee Discount
Facts & Data about PrimeBit:
Headquarters in: St. Vincent and the Grenadines
Company Jurisdiction / Registration: St. Vincent
CEO / Owners: Unknown
PrimeBit Discounts & Coupons:
PrimeBit Trading Fees in detail:
Maker Fee: 0.025%
Taker Fee: 0.075%
With Perpetual Contracts: Daily fluctuating funding interest rates for leveraged positions
Deposit & Withdrawal fees:
no deposit fees
no withdrawal fees (only mining dee)
Minimum Deposit / Withdrawal Amount:
Deposits: No minimum deposits
Withdrawals: 0.001 BTC
Supported FIAT Currencies:
No supported fiat currencies.
Supported Order Types:
Market Orders
Stop Market Orders
Limit Orders
Stop Limit Orders
Supported Trading Pairs for Margin Trading:
BTC/USD, LTC/USD, ETH/USD, BTC/USDT, LTC/USDT, ETH/USDT
Leverage per Coin:
Bitcoin (BTC/USD): 200x
Ethereum (ETH/USD): 200x
Litecoin (LTC/USD): 200x
PrimeBit Futures
Supported Countries:
Worldwide, except regions that forbid cryptocurrency derivatives margin trading
PrimeBit is banned in:
PrimeBit Discussions on Reddit and others:
PrimeBit Mobile App?
No mobile app
PrimeBit How-To´s and Guides:
Primebit support
Visit PrimeBit Platform
and get 10% Fee Discount
Frequently asked Questions about Margin Trading on PrimeBit
What is PrimeBit?
Primebit is a Bitcoin derivatives trading platform with fair price leading indicator, fair financing protocol and unbiased options for automatic deleveraging. Primebit contracts provide users with a transparent and simple experience, so not only professional traders can participate.

Who owns PrimeBit?
The Primebit platform belongs to the Primebit LTD company registered in St. Vincent and Grenadines, whose board directs operations within the exchange.

Where is PrimeBit located?
Primebit's headquarters are located in St. Vincent and the Grenadines, where their nuanced company is registered. Unlike other platforms, Primebit offices have always been in the same place.

When was PrimeBit founded?
The Primebit platform is relatively new, as it was released just last year (2019). Despite its short time in the market, it has attracted a lot of traffic to its market.

Who regulates PrimeBit?
Primebit works under the regulations of no government or financial institution. In fact, this is why the exchange does not require its users to complete KYC (Know your customer) processes to use an account.

Where is PrimeBit banned?
Primebit does not offer its trading services to 26 countries: Japan, Myanmar, Cambodia, Ecuador, Ethiopia, South Sudan, Syria, North Korea, Sudan, Republic of Serbia, Iran, Ghana, the Bahamas, Pakistan, Iraq, Canada, Afghanistan, Tunisia, Trinidad and Tobago, Algeria, Botswana, Cuba, Yemen, Sri Lanka, Crimea and Sevastopol and the United States. It is unknown whether any of these countries will be able to access Primebit in the future.

Can you use PrimeBit in the USA?
Unfortunately, US users do not have access to Primebit services due to the strong regulatory measures imposed in that country. Like other exchange companies, Primebit focuses its platform for countries without such closed regulatory measures. But if you're just traveling to the US (assuming you're not a US citizen), you can access PrimeBit through a VPN (virtual private network). That way there won't appear a US IP in your access location history, so nobody will ask any questions. So with a VPN PrimeBit can be used from the US at any time since the US location stays hidden.

What countries does PrimeBit allow?
Primebit accepts all countries that have not been specified in the list of blocked countries. This includes countries from all continents, so the Primebit community has been able to thrive since last year.

What can you trade with PrimeBit?
At Primebit users can trade perpetual contracts whose value is equivalent to the actual price of the underlying cryptocurrency. Unlike other crypto exchanges with spot and wallet markets for multiple tokens, Primebit only focuses on margin trading with these contracts.

How many coins are on PrimeBit, which coins does PrimeBit offer for trading?
Primebit allows you to trade with what could be considered the 4 main cryptocurrencies in the market: Bitcooin, Ethereum, Litecoin and USDT. Through perpetual contracts using pairs (BTC/USD, ETH/USD, LTC/USD, BTC/USDT, ETH/USDT, LTC/USDT).

What currencies are supported on PrimeBit?
Primebit accepts Bitcoin and Tether for deposits. It is not possible to transfer fiat currency to the platform or buy cryptocurrencies as such, although by depositing the USDT stablecoin you can maintain your income in dollars.

How does PrimeBit make money?
Primebit earns revenue from transaction fees charged to users. In margin trading, placing orders will require a small fee (especially if leverage is used) that will be calculated based on the original position size.

How to sign up to PrimeBit?
The Primebit registration process is as quick as it is simple. First, you will have to enter Primebit.com and press "Sign up". You will need to provide your email address, which will send you an activation link to create a personal account. Enter this link and complete your registration as a Primebit member.

What's the minimum stake for trading on PrimeBit?
Primebit does not require a minimum deposit amount, so you can enter the market with any amount. Most cryptocurrency exchange platforms demand at least $ 100 USD to fund an account, but Primebit gives you the option to trade whatever you feel ready for.

How does leverage work on PrimeBit?
Leverage is a service offered by almost all trading platforms and works as a loan to increase the size of your orders (higher investment, higher profit). Your funds will be taken as collateral or "margin" available to cover part of the order. If you are leveraged 1:10 and earn 4% on a trade, you make a profit of 40%.

What leverage rates are available on PrimeBit?
Primebit offers 200x leverage to its users, positioning it as one of the crypto exchange platforms with the highest leverage level. Unlike brokers for the Forex market (which offer up to 500x), the crypto market is very volatile, so leverage can be very risky. However, with good risk management and sound analysis, risk is manageable.

How to deposit btc into PrimeBit?
Upon entering your account you will get the serial number of your live account in the upper right corner, which you must click on. To deposit Bitcoin, select the BTC account and if you want to deposit Tether, select the USDT account. After selecting the currency, you will get an address where you can receive the tokens.

How to deposit USD into PrimeBit?
Primebit users cannot make deposits in fiat currency such as USD. However, you can deposit USDT and it will do the same function as normal dollars. This stablecoin may be traded with the other available cryptocurrencies to take advantage of price variations.

How do traders cash out on PrimeBit?
Primebit allows direct withdrawals in Bitcoin without completing KYC procedures. The platform does not establish a minimum withdrawal, so you can send the funds you want to an external wallet to exchange BTC for fiat currency or keep them.

How does PrimeBit trading work?
The Primebit platform offers margin trading services through perpetual contracts. Users will be able to negotiate the price of these contracts using leverage, indicators and different types of orders to ensure the best results. The entire process consists of determining if the price of an asset is about to rise (or fall) to take advantage of these market movements.

How to long/short bitcoin on PrimeBit?
First, log into your Primebit account and choose the pair of your preference (BTC/USD or BTC/USDT). Once you have located yourself on the web trader and prepared your market analysis, get the order menu on the right, where you can specify the type of order (Market, limit and stop), the amount to trade and the desired leverage. Press (buy) if you want to place a long order and press (sell) if you want to place a short order. This will make you buy/sell contracts that you don't really have and earn from its price variations.

What is PrimeBit liquidation?
Like all trading platforms, Primebit has a settlement system that will close your leveraged orders if the price turns against you long enough. If you placed a 20x leveraged order and lose 5%, this means the total loss of your available margin, so your order will be settled and your margin subtracted. To calculate the settlement price, Primebit offers a trading calculator where you must fill all the order data. This will let you know up to what price your funds can hold.

How to set a stop-loss on a long on PrimeBit?
To set stop loss on a long order you must choose "Stop order" and press "Buy" after specifying the other details (entry price and leverage). Stop orders consist of marking a price that will trigger the closing of the order, so you must specify a price level to close your position if the price goes against your analysis. This will prevent you from having bigger losses.

How to take profit on PrimeBit?
To establish take profit in Primebit we have to set two limit orders: The first will decide the price level at which we buy a contract, for example: Long in BTC/USD with the price limit at $9,500. Upon reaching this level, a buy order will be activated automatically. The second order will be a limit short order, which we will place at the price level at which we want to sell the contract, let's say our target is $10,000. If the price reaches that level, we will have sold the contracts and collected our profits.

When does PrimeBit send withdrawals?
Primebit processes Bitcoin withdrawals 3 times a day, which means that your withdrawal will be processed the same day of the request as long as it is before the stipulated hours. If you request a withdrawal after the third and last round, you must wait until the next day.

What is the withdraw limit in PrimeBit?
Primebit does not establish limits for withdrawals (or deposits), so users can easily withdraw as many BTC as they want. This differentiates Primebit from many trading platforms, which set withdrawal limits by user level.

Can you change leverage when in a position on PrimeBit?
You can change the leverage on an order by selling (if it's a long order) or buying (if it's a short order) part of the contracts traded on an order. For example, if you are long on 100 BTC / USD contracts, you can sell 50 to trade at half the size of the order.

How long can you hold a position on PrimeBit?
The positions will remain open for as long as you consider necessary as long as you can pay the funding fees imposed by the platform, unless of course the price goes against your order and liquidates it.

When you leverage on PrimeBit can you lose more then your investment?
Settlements exist precisely to prevent the user from becoming indebted to the exchange, so if your leveraged order empties your funds, your position will automatically be removed from the market. The exchange claims the percentage you lost of from your available margin.

How to close your PrimeBit positions?
Below the trading charts you will get the order history, where you can also see your open positions and manage them. Each order will have an "X" at the end, which serves to cancel it in case the market is lateralized or you just get a bad feeling.

How to close half of your PrimeBit position?
As explained previously, you can close half of your order by positioning a second order in the opposite direction of the first one, using only half its size. This will trade half of the funds and keep the other half open in the market.

Where does PrimeBit get its btc price?
Primebit averages the Bitcoin price obtained in the market and averages it with the corresponding transaction volume. This causes an intermediate level to be established between Bitcoin trading and its valuation, thus calculating the total price of the cryptocurrency with respect to the USD/USDT.

What's the cost to trade at PrimeBit?
Transactions made at Primebit will pay 0.025% to market makers and charge 0.075% to takers. On the platform, maker fees are shown as negative amounts because they will be paid to users for trading, since they are establishing liquidity in the market. These trading fees include all types of orders.

What is settlement fee/funding rate on PrimeBit?
The funding rate is a mechanism used by Primebit (and many trading platforms) to change the price of perpetual contracts to the reference price. The Funding Rate is calculated once the Interest Rate and the Premium/Discount levels have been obtained.

What causes premiums and discounts on PrimeBit?
Premiums will occur when the ETF (Exchange Traded Fund) is aggressively traded by optimistic investors for new opportunities in the market, while discounts occur when (on the contrary) pessimistic sales take over the market.

Does PrimeBit have an insurance fund?
Unlike other crypto exchange platforms, Primebit does not employ the Insurance Fund mechanism. In fact, for this reason, the company has a forced settlement and self-deleveraging mechanism, thus preventing the exchange from having leverage related losses.

How to get PrimeBit trades in one csv file?
At the moment, Primebit does not offer options to save the order history in csv files, although you can view your trades below the chart in the webtrader section and later document them.

How to get PrimeBit app on phone?
Primebit has no mobile apps as of yet, which is understandable considering how long it has been on the market. However, you can use the platform from your mobile device and access all Primebit trading functions without any setbacks.

What bots work on PrimeBit?
Because it is a relatively new platform, it has not yet been integrated into commercial trading bots like Cryptohopper or 3commas, both of which have proven performance. For this reason, it is not recommended to sync trading bots with Primebit just yet.

How to close a PrimeBit account?
Primebit reserves the right to permanently close / block accounts, so if you want to suspend your account you could contact the customer service team and raise your case. They are active all day to address the concerns of their users.

Visit PrimeBit Platform
and get 10% Fee Discount