Click here to get 15% to 25% Discount on your Trading Fees if trading token-against-token.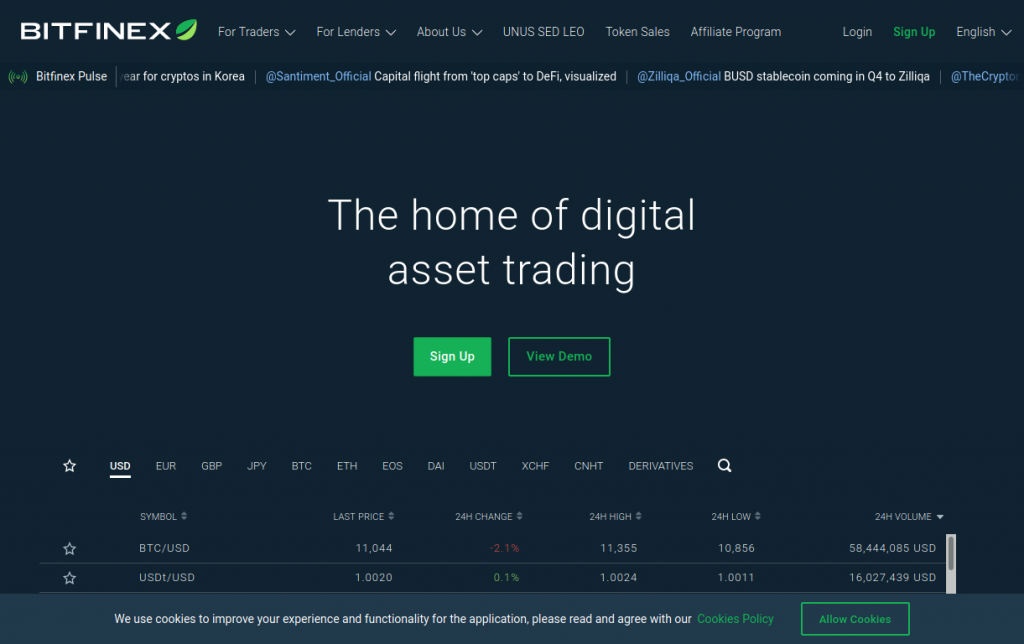 Visit Bitfinex Platform
and save 15% to 25% on Trading Fees!
Facts & Data about Bitfinex:
Headquarters in: Virgin Islands
Company Jurisdiction / Registration: Virgin Islands
CEO / Owners: iFinex Inc.
Bitfinex Discounts & Coupons:
Bitfinex Trading Fees in detail:
Maker Fee: 0.100%
Taker Fee: 0.200%
With Perpetual Contracts: Daily fluctuating funding interest rates for leveraged positions
Deposit & Withdrawal fees:
No deposit fees
0.0004 BTC for withdrawal fees
Minimum Deposit / Withdrawal Amount:
Deposits: 10.000 USD/EUR/GBP
Withdrawals: Equivalent to 5 USD
Supported FIAT Currencies:
Supported Order Types:
Limit
Limit (Order Book)
Market
Stop
Stop-Limit
Trailing Stop
Fill or Kill
Immediate or Cancel
Scaled
Supported Trading Pairs for Margin Trading:
Bitfinex supports 563 coins for margin trading, from which we get more than 600 pairs like BTC/USD, ETH/USD, XRP/USD, EOS/USD, LTC/USD, BCH/USD, BSV/USD, XTZ/USD, BTG/USD, XMR/US and more.
Cryptocurrencies will be paired with USD, BTC, ETH, USDT, EUR, GBP, JPY, DAI, EOS, XCH and CNHT.
Leverage per Coin:
BTC: 5x
USDT: 3.3x
ETH: 5x
XRP: 5x
IOTA: 3.3x
EOS: 5x
LTC: 5x
BCH: 3.3x
BSV: 3.3x
BTG: 3.3x
OMG: 3.3x
XMR: 3.3x
LEO: 3.3x
DASH: 3.3x
XTZ: 3.3x
PNT: 3.3x
ETP: 3.3x
Supported Countries:
Worldwide, except regions that forbid cryptocurrency derivatives margin trading
Bitfinex is banned in:
Cuba
Democratic People's Republic of Korea (North Korea)
Venezuela
Iran
Pakistan
Syria or Crimea (a region of Ukraine annexed by the Russian Federation)
Bitfinex Discussions on Reddit and others:
Bitfinex Mobile App?
Android: https://itunes.apple.com/us/app/bitfinex/id1436383182?ls=1&mt=8
iOS: https://play.google.com/store/apps/details?id=com.bitfinex.mobileapp&hl=en
Bitfinex How-To´s and Guides:
Visit Bitfinex Platform
_______________________________
Frequently asked Questions about Margin Trading on Bitfinex.com
What is Bitfinex?
Bitfinex is one of the most complete exchange platforms in the crypto market, as it offers multiple trading options to its users to position orders by buying and/or selling the most quoted cryptocurrencies. The Bitfinex exchange is home to a huge community of traders and has established a solid security system.

Who owns Bitfinex?
Bitfinex is owned by iFinex Inc, which also owns the iFinex Financial Technologies Limited platform and the USD based stablecoin Tether (USDT). This company is registered in the Virgin Islands and established its operations in Hong Kong, China.

Where is Bitfinex based/located?
The operations of the Bitfinex platform are managed by iFinex Inc, which (as mentioned above) maintains operations in Hong Kong and is directly registered in the Virgin Islands.

How many users does Bitfinex have?
It is impossible to say exactly how many users Bitfinex has at any given time, because every day many users register their data on the platform. However, by the end of last year, Bitfinex had a user network of almost 2 million.

How much is Bitfinex worth?
Although iFinex Inc has yet to declare the exact value of the Bitfinex platform, the exchange daily market volume reaches $90,810,095 USD, which would give a Bitcoin equivalent of approximately 9440 BTC (at the current price).

Who regulates Bitfinex?
Bitfinex
is not regulated by any government entity. However, the company iFinex Inc is legally registered in the Virgin Islands, although said nation does not limit the platform's operations or capabilities.
When was Bitfinex founded?
Bitfinex was created in December 2012 in Hong Kong as a P2P exchange with margin options for Bitcoin. Then the platform would update its trading options and include more cryptocurrencies in the market.

How does Bitfinex make money?
Like other exchange platforms, Bitfinex benefits from the commissions applied in Margin trading, inbound deposits and withdrawals. Commission rates determine – along with each transaction executed per day – exactly how much money Bitfinex produces.

How do i know i am on the official and legitimate Bitfinex exchange?
Being one of the exchange platforms with the highest volume in the market, Bitfinex may be a target of phishing and its users should be careful when accessing the exchange's website. To know if you are on the real Bitfinex platform, confirm if the URL writes "https://www.bitfinex.com/". Any other variation of the link might suggest an attempt to obtain login details.

What is the difference between Bitfinex and Coinbase?
Coinbase and Bitfinex are very different exchange platforms. In addition to generating different market volumes, commission rates, trading options (Coinbase Pro only allows 3x leverage) and available cryptocurrencies, Bitfinex cannot be used by US citizens and Coinbase does.

How many coins are listed on Bitfinex?
Bitfinex currently allows trading with 563 cryptocurrencies, which is why it is considered one of the exchange platforms with most available tokens.

What cryptocurrencies does Bitfinex have in detail?
Chain Split Tokens – Segwit2x, Chiliz, Cindicator, Cofound.it, CommerceBlock, Consensus AI, Content Neutrality Network, Contentbox, Cortex, Cosmos (ATOM), Credits, CryptoFranc, DAI, DAOstack, Dash, DATA, Data Transaction Token, Decentraland, Dether, DigiByte, Digix Gold, Dragon Token, DragonChain, Dusk, EDGE, Eidoo, Enjin, EOS, EOS Airdrops, Essentia, Ether Kingdoms (IMP), Ethereum, Ethereum Classic, Everipedia, FOAM Token (FOA), FunFair , Fusion, Gate.io (GTX), Gemini Dollar (GUSD), Gnosis, Golem, Hydro Protocol, iExec, Internet Node Token, IOSToken, IOTA, Iota Technicals and Connection Help, Kleros, Kyber Network, LiquidBTC, Litecoin, Loom Network , Loopring, Lympo, MakerDAO (MKR), Matrix, MedicalChain, Melonport, Metaverse ETP, Currencies & Tokens, 0chain, Aragon, Aelf, BiTKan, Algorand, Auctus, Bancor, BitTorrent, Bitcoin Gold, Aion, Bitcoin, BLOCKv, Bitcoin Interest, Blockpass, 0x Project, Bitcoin Cash, Banyan Network, Basic Attention Token, Chain Split Tokens, AidCoin, Aventu, , Airswa, Callisto Network, Autonio, Augur, Chain Split Tokens, BnkToTheFuture, Bitcoin Unlimited, Atonomi, Ampleforth, Bitcoin SV (BSV) , Verge, Vetri Waltonchain, WAX, WePower, Wollo, Wrapped Bitcoin, Xriba, Yggdrash, YOYOW, ZB Token, Zcash, Zilliqa, SEER, SingularDTV, SingularityNET, SpankChain, Stasis Eurs, Status, Stellar Lumens, Storj, Streamr, Swarm, Tether CNH (CNHt), Tether EUR (EURT), Tether Gold (XAUT), Tether USD (USDT), Tezos, The Abyss, Time New Bank, Tripio, Tron, TrueUSD (TUSD), Ultra, Universal, Unus Sed LEO, UNUS SED LEO, Token Holders Benefits, Upfiring (UFR), USD Coin (USDC), USDK, UTRUSTV, Systems, VeChain, Mithril, MobileGO, Monero, Monolith, Nectar Token, NEO, Nucleus Vision, ODEM, OKEX, OmiseGO, OMNI, On.Live, ORS Group, ParkinGO, Paxos (PAX), POA20 Network, Polymath Network Project PAI, QASH, Qtum, Raiden Network, Rate3, Recovery Right Token, RenrenBit, Request Network, Ripio Credit Network, Ripple, RSK, RSK Infrastructure Framework (RIF) and Santiment.

What fiat currencies are supported on Bitfinex?
Bitfinex accepts 5 fiat currencies, among which are the EUR, USD, YPJ, GBP and CNH. It should be noted that the minimum deposits and withdrawals for the USD, EUR and GBP are 10,000, while for CNH it is 75,000 and for JPY 1,000,000.

How to use Bitfinex exchange, how to trade on Bitfinex?
You will first need to deposit funds into your Bitfinex account, which can be through cryptocurrencies or the previously mentioned fiat currencies. Click on the "Trading" option and you will find the different markets available for each token. All of them can be bought with Bitcoin and USD, although some can be bought by ETH. Choose the currency pair you want to trade and you will be taken to that pair's window. Click on "Order Form" and choose what type of order you want to place. Put the price in USD (for example) at which you want to buy or sell and the amount of the cryptocurrency to buy.

How long does it take to get verified on Bitfinex with fiat account?
Being verified through a KYC process will take users 1-2 weeks. It should be noted that if the platform is under heavy traffic and the system is overloaded, verifications may take longer than usual.

How to deposit money/USD to Bitfinex?
To make deposits in fiat currency you need to be verified. You must request this transfer in advance and within 48 hours you will be provided with the bank details for the deposit via email.

How to transfer Bitcoin to Bitfinex?
Click on the "Deposit" option and specify the currency in which you will make said deposit. Choose "Bitcoin" and you will see an address available in your BTC wallet. Copy the address and paste it in the issuing wallet (from where you will send the tokens). Specify the amount and confirm the transaction.

How long does it take to send Bitcoin to Bitfinex?
BTC deposits made to Bitfinex will take around 1 hour as long as the Bitcoin network is working properly. In case of heavy traffic, the transaction can take up to 2 hours or more.

How to transfer cryptocurrency from Coinbase to Bitfinex?
Copy the address that the Bitfinex BTC wallet will provide you. Login to your Coinbase account and go to Portfolio. Select Bitcoin and press "send". Paste the BTC address that you previously copied from Bitfinex and specify the amount. Confirm the transaction and wait for your tokens to arrive.

How long do Bitfinex deposits take?
In the case of international bank transfers with fiat currency, deposits can last up to 5 business days. As soon as the funds reach the exchange, the platform recognizes them and places them in the wallet.

How to withdraw from Bitfinex?
If you are going to withdraw Bitcoin from Bitfinex, you must click on the "Withdraw" option. You will access your wallet and paste the BTC address of the wallet where you want to send your tokens and specify the amount to withdraw. Confirm the transaction and the BTC will be sent.

How to withdraw from Bitfinex to Coinbase?
Copy the BTC address into your Coinbase wallet. Access your Bitfinex account, click on "Withdraw" and paste the Coinbase BTC address. Write the amount to withdraw and accept the transaction. It'll take approximately one hour for the funds to arrive.

How to withdraw money from Bitfinex to bank account?
Go to the "withdraw" section and select the fiat currency you want to withdraw (USD for example). You will find your bank information there and you can carry out the transaction.

How long does Bitfinex take to withdrawal fiat money?
A withdrawal via bank transfer will take between 5 and business days. However, you can get your funds in just one day through the Express withdrawal, which will charge you 1% of the transaction.

What is the withdraw limit in Bitfinex?
Withdrawals at Bitfinex are not subject to any kind of limit so far. You can withdraw all your funds following the procedures indicated by the exchange and confirming each transaction.

How do I get usdt on Bitfinex?
Once BTC is deposited in Bitfinex, go to the "Trade" section, choose the type of order you want to execute and choose the BTC / USDT pair. Type the amount of USDT you want to get and press "Sell". USDT tokens will be instantly credited to your wallet. You can also deposit USDT directly, although you must be verified to do so.

How to read Bitfinex charts?
Bitfinex charts are simple when analyzing the market. Green candles are bullish and red candles are bearish. The green and red bars below the price chart indicate the volume of the market. You will have to analyze the charts at different time frames to confirm a trend and position an order.

How to read order book Bitfinex?
In the Bitfinex Order Book we will see the sales side and the purchasing side. Both sides will specify "Price, Ammount, Total and Count". Price indicates the value of the asset that is being bought or sold. Ammount indicates how many tokens are being traded. Total combines the orders of the same price and adds the amounts and Count tells how many orders were combined to create the amount at that price level.

How to buy and sell on Bitfinex?
Go to the trading section of the pair you want to trade (BTC / USD for example) and make your way to "Order form". There you must choose the type of order that you will execute, and (if it is a limit order) the price at which you want to buy or sell. Press "Exchange Buy" or "Exchange Sell" and your order will be placed.

How long does it take to sell on Bitfinex?
As soon as you set up your order and confirm it, your sale will be made in the market. If you choose to sell in "limit" your order will be made once the price reaches the level you specified.

How to set a stop loss on Bitfinex?
Users will be able to use "Buy / Sell Stop" orders to represent a stop loss. For example: If my entry price is 5,000 on a long order and my target is 5,500, there is a probability that the price will drop. Therefore, it is possible to place a Stop Sell order at 4980 to prevent further losses.

How does Bitfinex OCO work?
Bitfinex OCO (One Cancels Other) orders consist of a couple of orders that will interact with each other for the benefit of the user. In other words, if one order reaches a stipulated price, the other is automatically canceled.

How to day trade on Bitfinex?
To do day trading at Bitfinex you must place orders in the market that reach the target price in several hours or one day (in extreme cases). These market entries are based on time frames between 1h-4h and if it takes more than a day to be achieved, it is canceled to avoid losses.

How to margin trade on Bitfinex?
Next to the "order form" window you will see an option called "margin" where you must click. There you must transfer your funds to your margin wallet and then position your order (long or short).

Bitfinex – does trade close when margin funds end?
Before your margin funds run out, you will receive a margin call to let you know that the order is about to close. But yes, if the margin funds are lost the order will be closed automatically and you may even burn your account.

How to short on Bitfinex?
First you will have to transfer funds to your "margin" wallet. After specifying all the details in your Sell (Short) order. Let's say you want to trade BTC / USDT. You will be able to opt for a USDT loan and wait for the BTC price to drop to buy even more tokens. Thus, you can pay the loan and obtain benefits in BTC.

How to long on Bitfinex?
Enter the margin trading window and make sure that your margin wallet is funded. Set your order and you will receive a loan in the currency you want to buy when you enter long. You will have to wait for the price to rise and after reaching the target price, sell the profits of your trade to pay the loan and keep the rest.

How much leverage can you use on Bitfinex?
Users will be able to use the leverage service up to 5x in selected cryptocurrencies. It should be noted that leverage trading involves greater risk. You can win a lot and you can lose a lot.

How much leverage per each coin can be used on Bitfinex?
Bitfinex allows leverage of 3.3x (in currencies such as IOTA, NEO, BSV, etc…) and 2x in some of the available currencies, with the exception of Bitcoin, Ripple, Litecoin, Ethereum, EOS and Tezos, which can choose up to 5x leverage.

Can you change leverage when in a position?
Leverage will be indicated when placing an order, so in Bitfinex it is not possible to change the leverage after an order is running on the market. It is necessary to ensure the leverage that we want to establish in our trade before a long / short.

How to make money on Bitfinex?
You will be able to make money in Bitfinex through the price variations existing in the crypto market. Basically it is about buying cheap and selling expensive, although you do not only have to buy to make a profit, since bearish trends can also be exploited in our favor.

How to delete Bitfinex account?
Go to "Account settings" and click "deactivate my account". You must confirm your decision within the platform and you will receive an email with the same request, which you must also accept and your account will be permanently deactivated.

What is an api key on Bitfinex?
Api Keys can be used in Bitfinex as unique authenticators used to identify users, so to login we can choose to create an Api key and log in through it. Bitfinex reports a better experience using Api keys for security reasons.

How to use Bitfinex api?
Go to "Account" and choose the API section. Choose the permissions that the API will have within your account to decide what actions to allow your application. Once the API key is created, it will generate a QR code, which you must scan. Thus, you will be able to log in through said code (either scanned or written).

How to buy from Bitfinex in the USA?
To use Bitfinex in the United States, you must activate a Virtual Private Network (if you do not have one, you must obtain one) and then enter the website using the IP of another country. It should be noted that you will always have to activate your VPN and access Bitfinex through a foreign IP again. It goes without saying that you will have to choose an IP of a country where crypto CFD margin trading is allowed. The most important thing is that you never enter your Bitfinex account with a US IP in order to avoid a verification request, in case you want to keep trading anonymously. If you can't verify your ID because you are a US citizen you risk losing further access to your account.

How to use vpn for Bitfinex?
Once subscribed to a VPN service, you will have to log in and establish an IP from a country accepted by the Bitfinex platform, UK for example. Then you must create a Bitfinex account using the IP address previously configured in the VPN and you can start buying and selling cryptocurrencies on the exchange.

Why is Bitfinex banning us customers?
The United States is banned from Bitfinex as the exchange's policies don't meet the demands of the CFTC (Commodity Futures Trading Commission). For this reason, users with United States IP will be blocked from the platform.

What to use other than Bitfinex in the us (legally)?
There are several crypto trading platforms that can be used freely and legally within the United States. Coinbase, Kraken and Gemini Exchange can be used by US citizens without further limitations.

Where is Bitfinex legal?
Bitfinex is legal worldwide, as there is no country whose government entity has blocked Bitfinex from the network. However, Bitfinex has imposed limitations on its platform on which countries it lets in and which does not.

Which countries cannot use Bitfinex?
Bitfinex does not offer its services in countries such as Ecuador, the United States, Bolivia, Bangladesh and Kyrgysztan. It is unknown if any of these countries will be able to use the Bitfinex platform like the rest of the world at any future time.

How secure is Bitfinex?
Bitfinex is one of the exchange platforms with the highest user security requirements, including all authentication factors, login filters and KYC processes. This may be because Bitfinex has already had bad experiences in the past with hacking episodes.

What is 2FA on Bitfinex?
2FA (2-Factor Authentication) is a security protocol available on Bitfinex and other exchange platforms that makes you verify your identity on other devices before logging into a certain account. This ensures that the person logging in is actually the owner of the account.

How to enable 2fa on Bitfinex?
Move to the security section of your account and click on the Two-Factor Authentification menu, where you must scan the QR code with your application from your phone and then press "Enable". You will receive an email confirming this setup and you will have activated 2FA in your Bitfinex account.

How do i remove google authenticator from Bitfinex?
You must log in and go to the "Security" section in your Bitfinex account. Find the 2FA settings and click "Disable". Subsequently, you will receive an email in which you will have to accept this action and you will be ready.

What fees does Bitfinex charge?
Cryptocurrency deposits will be totally free, while Bank wire transfers will be charged with 0.1% commission on the total amount of the transaction. For withdrawals, it will charge you 0.0004 BTC in Bitcoin, although withdrawing funds in other cryptocurrencies may be cheaper. For withdrawals in fiat currency, 0.1% will be charged in traditional transfers and 1.0% in express withdrawals.

How do Bitfinex fees for margin trading work?
It is recommended that margin traders take out accounts before placing each order. For small investors, that is, those who move less than USD 500,000, commissions are between 0.1% and 0.2%. For older investors, commission rates decrease to 0.020%.

How to calculate Bitfinex fees?
For traders interested in margin funding, there is a formula to calculate the commissions and interests within the platform:

How to get listed on Bitfinex?
Bitfinex does not accept third parties in the Listing process. If a token is a candidate to get listed it will be because Bitfinex considers that its user community insists on negotiating with said token, so it is the exchange who is in charge of contacting the responsible team. If the token meets expectations, it will be listed.

How much does it cost to get listed on Bitfinex?
You cannot pay to list a coin on Bitfinex. As explained above, the exchange limits this process between the Bitfinex team and the team that issues the token. Outside these limits, it is not possible to invest to be listed.

How does Bitfinex referral work?
Bitfinex provides a referral code to each user who joins the platform. With this code, new users can register on the exchange, which will provide percentages of profit to those who refer users. Direct members will charge up to 18% of financial movements of referrals, while indirect members will charge between 6% and 2%.

Where to find Bitfinex referral code?
Once you are logged in, you can go to your account options and select "Affiliate Dashboard". By clicking there you can get your referral link, which you can share with friends, family and acquaintances. Once they register using your link you can start earning percentages of their movements within the platform.

How to install Bitfinex app?
To install the Bitfinex app, we must enter the Play Store or Appstore and enter "Bitfinex" in the search engine. The official application should appear in the first place, where we will press "download". Once the application is installed, we can proceed to use it.

How to use Bitfinex app?
To use the application we will have to log in, which we can easily do through an API key. Once inside our account, we can access the trading menu to place an order, see open orders, access the wallet to make withdrawals and deposits, etc. The Bitfinex app has a simple interface and guides you through its options.