Save Money With These Leading BTC Day Trading Platforms:
Bitcoin trade never sleeps. It goes on 24 hours a day, even on Christmas, and high volatility is excellent for trading.
When using leverage, you can make money by scalping. This strategy involves making a large number of smaller trades a day. It's effective when the value of Bitcoin changes drastically. If you're aiming for a smaller profit, you can use it as well.
Both long and short trading is possible. The direction is not important to make money as you can also bet on falling prices and get the price difference as profit.
The best Bitcoin day trading strategies involve using breakout of bullish or bearish patterns and setting tight stop. Always stick to your strategy for consistent profits and calculate position size accurately, taking into account reward to risk ratio, entry, stop loss and exit.
Always use a position size calculator and consider taking partial profit, such as half or a third, when the price moves in your favor.
Observe Market Movement
Market timing is a strategy based on beating the market. One carries out fluctuations analysis to assess and predicts price movements and then moves assets quickly to make a profit.
Investors predict which coins will rise in price this way. Bitcoin is a new market with quite a few nuances that comes with risks due to deflation. The best decisions are often based on market timing.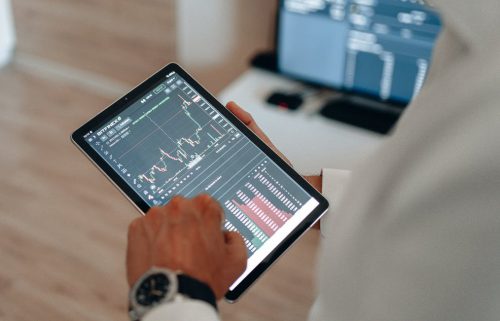 One needs to assess their risk tolerance and know asset security, patterns, and price history to be able to make an educated guess. The more you learn about the market, the higher your risk tolerance will be.
"Buy the dips" is a strategy when prices are lowest and you buy assets in high number. Indicators to look at in this context are when candlesticks on the lowest timeframe show signs of weakness, bearish divergence in RSI, and broken trendline of one's chart layout.
7 Best Bitcoin Trading Platforms for Day Trading: BitMEX, Bybit, and More
BitMEX
Our section starts with Bitmex, which offers a global market a derivative trading platform. Their trading method is a bit confusing to people accustomed to trading cryptocurrency directly.
Products
Users trade contracts rather than direct currency, which can be much more volatile. This is why the platform is best for experienced traders. Options include fill or kill, iceberg orders, cancel or immediate, and post-only orders. It is a high-risk platform. You can use leverage as soon as you open an account.
Fees
No fees are charged on withdrawals or deposits. Funding changes from longs to shorts and vice versa on perpetual contracts, such as XBTUSD, over discrete funding intervals. No fees are charged on paid or received funding. The blockchain load determines the minimum Bitcoin network fee when withdrawing Bitcoin.
BitMEX fees apply to the whole leveraged position, not only the margin, which is why they are higher than on traditional exchanges. They are 0.075% of the position for market trades. Rollover fee can be as high as 15%.
Deposit
There is no minimum. You can only deposit BTC.
Bybit
Bybit is like a combination of BitMEX and Binance. It's a visually appealing, high-quality exchange without freezes during high volume trades. An exception is the mobile version.
Products
Bybit focuses on the ETH/USD and BTC/USD trading pairs. There are perpetual contracts in XRP/USD, EOS/USD, LTC/USDT, XTZ/USDT, BTC/USDT, ETH/USDT, and LINK/USDT. Market data is updated every 20 ms, enabling high frequency trading. System functionality is at 99.99%. Hot patches are released in real time, due to which there is never any server downtime.
Fees
A two-way fee is charged on each order; one to open and one to close the position. The taker fee is 0.075% and the maker fee is -0.025%.
Deposit
Bybit accepts deposits in BTC, ETH, EOS, XRP, and USDT. Currencies such as BCH, TRX, and LTC are not accepted. There is no minimum deposit requirement.
Binance
At Binance, you can exchange fiat for cryptocurrencies. The exchange connects buyers to sellers directly through its peer-to-peer (P2P) trading service, making payments in fiat easier. They also have a credit and debit card brokerage service, through which you can pay for BTC and other cryptos by credit card.
Products
Hundreds of market pairs, leveraged tokens, and margin trading are available. So are perpetual and quarterly futures. Of course, market data is accessible in real time. To get started, all you need to do is convert fiat to crypto.
Fees
There is a 0.1% spot trading fee. The fee on instant buy/sell is 0.5%. To calculate your specific fee, enter your fee rate, the size of your BTC trade, and the current price of BTC in USD. Binance's calculator will show you the total fee, both in BTC and in USD. The default maker and taker fee is 0.1%.
Deposit
Currently, you can deposit BTC, ETH, XRP, and traditional currencies such as the USD and the naira (Nigeria). All major cryptocurrencies are available on Binance, including Bitcoin (BTC), Ether (ETH), Ripple (XRP), EOS, Chainlink (LINK), Bitcoin Cash (BCH), Litecoin (LTC), Basic Attention Token (BAT), Binance Coin (BNB), Cosmos (ATOM), Binance USD (BUSD), Paxos Standard (PAX), Nano (NANO), Dash (DASH), Tether (USDT), TRON (TRX), Stellar Lumens (XLM) and TrueUSD (TUSD).
Primebit
Primebit offers 200x leverage, which is among the highest available. You can trade Bitcoin, Litecoin, and Ethereum with this leverage.
Products
Primebit is a P2P crypto derivatives platform that enables direct trade with other investors. There is a web and a desktop application, accessible through Meta Trader 5. The fixed point value makes calculating potential returns child's play. The platform supports instant withdrawals. There are neither single-day batches nor cut-off times limiting fund access, making Primebit a great option for day trading.
Fees
The fee to withdraw BTC is only 0.0005 BTC. Fees are charged on buying BTC to fund accounts, converting BTC to fiat, and withdrawing BTC.
The taker fee is 0.05%, which is quite good in comparison to the industry average. The maker fee, charged when you place an order on the order book, pay just 0.02% of the contract value.
Deposit
There is no minimum deposit or contract expiration dates. You can start trading as soon as you sign up and deposit BTC. Profits on perpetual contracts are unlimited. The broker accepts Bitcoin deposits only, which are credited after network confirmation.
PrimeXBT
PrimeXBT's browser-based, customized trading platform requires neither download nor installation. It comes with a full set of analysis and charting tools and more than 50 technical indicators.
Products
You can use charts to place trades and manage orders directly. You get access to a wide variety of execution methods, visualization tools, and trading histories via the fully customizable workspace. There is an option to take profit and stop loss at the same time.
PrimeXBT's Turbo platform features social trading, where traders can compete. On the downside, there is just one basic chart type and no analysis tools or indicators. There is also no copy trading capacity and just six tradeable instruments – ETH/USD, BTC/USD, EUR/USD, EUR/JPY, GBP/USD, and USD/JPY – with a maximum leverage of 100x.
The platform supports a fund management module, hedging, and cross-margin trading. These provide additional ways to reduce risk and increase profit potential. All of these features make the provider perfect for Bitcoin day trading.
Fees
The exchange only charges fees to hold a position open overnight and per trade. The rate for cryptocurrencies is 0.05%.
Deposit
It is only possible to make deposits and withdrawals in Bitcoin. The minimum deposit for a PrimeXBT account is 0.001 BTC.
SimpleFX
The CFD broker SimpleFX doesn't require a minimum deposit and offers leveraged trading with affordable fees. It makes the proprietary SFX Web Trader and popular MT4 platform available to clients.
Products
SimpleFX has 60 currency pairs and more than 170 tradable instruments on a few markets. You can day trade BTC, XRP, and other major cryptos. The Web Trader platform features an idea exchange community and access to News TV. Additional trading features, such as customized programming and signal trading, are available in the marketplace.
Fees
SimpleFX charges a minimum withdrawal fee of 0.001 BTC. There are no hidden transaction fees and spreads are competitive, starting from 0.1 pips. However, swap rates are high. There is also a substantial overnight rollover fee, which traders must pay if they decide to hold a CFD trade overnight. The stop out level is 30% and the margin call is 50%. The minimum contract size is 0.01 lots for cryptocurrencies.
Deposit
You can deposit funds in Bitcoin, Bitcoin Cash, Ethereum Class, Litecoin, Dash, Ethereum, and Monero.
Kraken
Kraken is a high-liquidity, intuitive, and safe trading platform. It is very suitable for BTC day trading with the options to use leverage, margin, and other advanced strategies.
Products
Traders can exchange digital assets and trade Bitcoin and Ripple for fiat and vice versa. A total of 46 coins are available.
Fees
The fees are quite affordable – up to 0.02% to open a position and the same in rollover fees to maintain it (per 4 hours). They depend on the currency pair a trader wishes to leverage.
Deposit
Kraken supports deposits in USD, EUR, CAD, AUD, GBP, CHF, and JPY. Deposits via PayPal, in cash, or by credit or debit card are not accepted. Level 1 users can only deposit cryptocurrencies. There is no limit to deposits in cryptocurrency.
Where can US Traders day Trade Bitcoin?
US traders can day trade BTC anywhere unless the exchange specifically does not accept traders from the US. The three platforms described below are options. You must use chart patterns, technical analysis, and technical indicators to identify setups. Other popular strategies are high-frequency trading and range trading. US traders must understand leverage, trading fees, and other conditions as well as what taxes they owe on profits before they get started.
Kraken
See above.
Robinhood
Robinhood offers a 2:1 leverage ratio. The withdrawal fee is a flat $75. The platform advises users to resolve any negative balances or account restrictions before requesting a transfer to avoid delays. If you choose the Robinhood Instant account, no minimum deposit is required. On the other hand, traders who choose Robinhood Gold must deposit at least $2,000.
Binance.us
Binance allows leverage of up to 125x. Via their initial ACH deposit, US traders can send up to $5,000. The limit rises to $30,000 after the initial amount is cleared.
Bitcoin Day Trading Bots
In this section, we'll review the top five BTC day trading bots. They are BinBotPro, Blackbird, ZenBot, Catalyst, and Shrimpy (not necessarily in that order).
BinBotPro
BinBotPro operates using high-frequency trading. This automated trading software can make fast algorithmic trades to use crypto market volatility. It is specialized in scalping. When you run it 24 hours a day, you can reckon with impressive profit.
Blackbird Bitcoin Arbitrage
This is a unique BTC trading bot that uses arbitrage strategies to find and take advantage of market gaps. With these strategies, you don't sell tokens that you own. The bot is not affected by market volatility and can work in any conditions. The strategy won't be impacted even if the value of BTC drops in half overnight.
Blackbird is exclusively for BTC day trading. There are never any latency issues because its strategies work on different exchanges in parallel.
3. ZenBot
ZenBot is ideal for novice traders. This open source bot supports Kraken, Poloniex, Bitstamp, Bitfinex, and a few other exchanges. Its advanced features include a flexible sample period, configurable order types, paper trading for real-time strategy testing, and access to Gekko and other premade strategies.
According to GitHub, the ROI of Zenbot's latest version was 1.531 in three months, which is very impressive.
Catalyst Enigma
This bot was created using Python. Its high customizability is a major advantage for users. One can create, test, and analyze complex strategies on Catalyst's dashboard, which offers several valuable metrics per strategy. Then, you can share your findings with other traders to see what the most valuable strategies are.
Shrimpy
Shrimpy is the only paid bot on our list and that's no coincidence. Its advanced features include cross exchange performance monitoring, portfolio rebalancing, and portfolio management. The bot welcomes beginners and advanced traders alike.
Minimum Stake for day Trading Bitcoin
Unlike traditional markets, Bitcoin trading does not require you to start with several thousand USD. The entry threshold for Bitcoin Brokers is very low. If all you want is to learn the ropes, even $5 will be enough.
How Much can you Make day Trading Bitcoin?
US traders will owe the IRS about 25% of all of their profits. When it comes to taxes, software can help, but we'll discuss this later.
Let's say you buy Bitcoin for $300 and decide to sell it for $400. The profit is $100. You intend to rebuy it when the price drops again and so on and so forth. Your profit would be $75 after taxes. If you used a debit card to buy it, you would have paid fees as well as a markup, reducing the profit to about $48.
If you want to pay lower fees, you can use ACH to buy Bitcoin, but the downside of that is a waiting period of about a week before you can trade. Loading USD into your platform of choice and setting "limit buys" is the best approach to take.
You can make about $200 a week if you're lucky and day trade BTC worth about $1,000 over this period. This is presuming stability of the price. If it doubles, you can make $1,000.
The Best Tax Software
Tax software such as cointracking.info downloads user transactions from exchanges automatically. Then, it will create a clear and concise tax report showing how much you owe. Cointracking is used by professional traders to visualize fund status across multiple crypto exchanges. Likewise, tax professionals and fund managers use it to set up profiles for their customers. Three alternatives to CoinTracking are Delta, CryptoCompare, and Blockfolio.
Can You day Trade Bitcoin Futures?
Huobi, CME, Ameritrade, BitMEX, and OKCoin are among the exchanges that offer BTC futures day trading. The value of BTC futures contracts trading daily is around $10 billion.
Difference Between Perpetual Contracts and Traditional Futures
Unlike traditional futures, perpetual contracts don't have an expiry date. This means there's no limit to how long you can hold a position. Another difference is that an underlying asset prices is the basis of perpetual contract trading.
Most Popular Perpetual Contracts for day Trading
The popularity of perpetual contracts depends on the funding rate, reference index, and the maximum leverage offered. People trading perpetual contracts don't have to post all of their collateral as margin. This makes it possible to trade with up to 100x leverage in some cases. For example, BitMEX's margin is entirely in BTC, which enables traders to speculate on future product value using this crypto only.
Popular perpetual contracts include XBTUSD, ETHUSD, XRPUSD, BCHUSD, LTCUSD, and LINKUSDT. There are also perpetual contracts that have inverse and quanto payouts. Inverse contracts, such as XBTUSD, are worth $1 of BTC each regardless of the crypto's price. This facilitates USD amount hedging.
Inverse contracts are best for those who want to short or long the USD against Bitcoin. Quanto contracts are where the instrument is settled in one currency at a fixed rate, but the underlying asset is denominated in another currency. The underlying margin and profit/loss are in Bitcoin. Some BTC/USD exchange rate risk is involved.